Posted by
Erica
February 01, 2013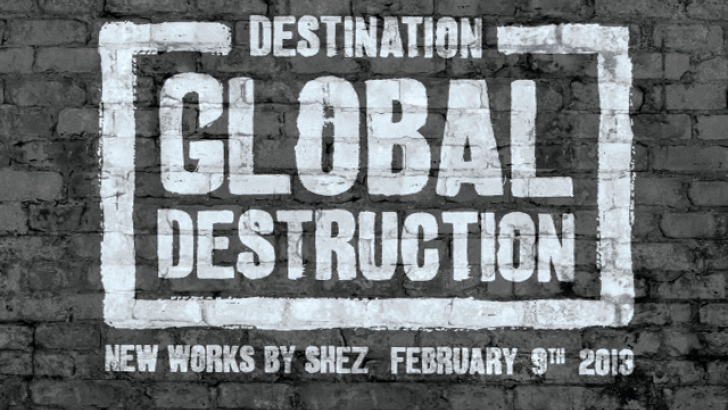 Shez started out as you or I, a fan and collector of the art toy scene, but it didn't take long before he developed a desire to begin customizing figures.
Quickly he became known for his impeccably detailed & innovative works; Using sculpted elements and stunning designs to really capture the attention of all who bear witness to his work. He freely juxtaposes street art aesthetics with video game nostalgia, all with a polished artistry.
While still a relatively fresh talent in the customizing world, Shez has come on in leaps and bounds through out the past year, being invited to participate in numerous gallery shows, and having his work highlighted by the mighty Frank Kozik after customizing one of his 10" Labbits.
All of this has resulted in Shez's work being highly sought after as collectors wait in anticipation of his next creations. The Clutter Gallery is proud to present "Destination Global Destruction" New works by Shez.
"Destination Global Destruction" will have it's opening reception on Saturday, February 9th, 2013 from 6pm until 9pm at The Clutter Gallery, 163 Main St., Beacon, NY 12508. The exhibition will be available for viewing through March 2nd, 2013 and on cluttermagazine.com, where pieces from the show will be available for purchase.
By joining The Clutter Gallery Preview List, you will receive special pre-opening information and the opportunity to buy exhibition pieces prior to the show opening. Notices will normally go out early the day of the opening.
Similar posts
Monday, September 3, 2018 - 10:02pm

The Clutter Gallery is proud to present an amazing solo spectacular from artist duo, Horrible Adorables! 

Monday, September 3, 2018 - 9:50pm

From the farthest reaches of Outer Space, beyond the Gum Gum Galaxy and the Nougat Nebula, lies a planet of Magical Sparkle Glitter. Once a year the inhabitants of the tinsel covered shiny wonder that is Planet Rainbow Sparkle invade the Clutter Gallery.