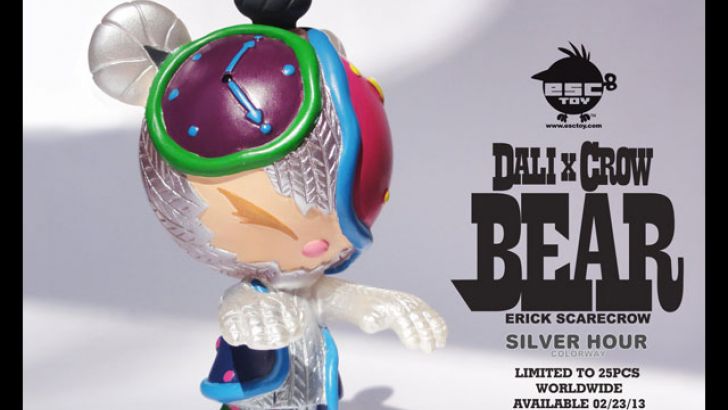 Eric Scarecrow will drop 4 new figures tomorrow, February 23, at 11 AM EST in his webshop. All of these pieces are very limited and all arrive signed and numbered by Eric. The first figure we'll talk about is the Dali x Crow Bear in Silver Hour colorway. Crow Bear's silver body looks so good with that infamous Dali clock melting on his head. This hand painted, semi clear resin figure measures 3.5" tall and is limited to 25 pieces world wide. The Dali x Crow Bear in Silver Hour retails for $35. 
The next figure is S.Maria in Cooki colorway. This is a must have for S.Maria fans! Limited to just 12 pieces S.Maria Cooki resin figure stands at 6.5" tall. Once again this figure is hand painted and arrives signed & numbered by Eric Scarecrow. Retailing for $200, S.Maria Cooki will be available in the ESC webshop tomorrow. 
Eric made only 1 Mini Meekay in Darling Meese colorway so if you want it get to ESC webshop on time! Mini Meekay is a 4" tall, hand painted vinyl figure. As I mentioned earlier this little guy is the only one ! He retails for $150, and like the other pieces we've previewed he will be available at 11 AM EST in the ESC webshop.
Kissaki Soul Steal colorway is limited to 3 pieces! She stands tall at 10" and she's hand painted too. Arriving at your door signed and numbered, this vinyl Kissaki figure retails for $400. Once again, she drops February 23rd at 11 AM EST in the Eric Scarecrow webshop. 
All of these amazing figures come signed and numbered and all drop February 23rd at 11 AM EST! Go to Eric Scarecrows webshop & get yours while you can! 
Similar posts
Saturday, January 23, 2021 - 4:36pm

Clutter has teamed up with NY-based artist Kyle Kirwan to bring you a brand new designer toy platform, The Brick!

Wednesday, November 25, 2020 - 5:10pm

Meet the latest member of the Canbot family!  One Formula Canbot by Sket One! The OG legend Sket One has teamed up with Czee13 & Clutter to bring you a killer series of Canz that are Classics.