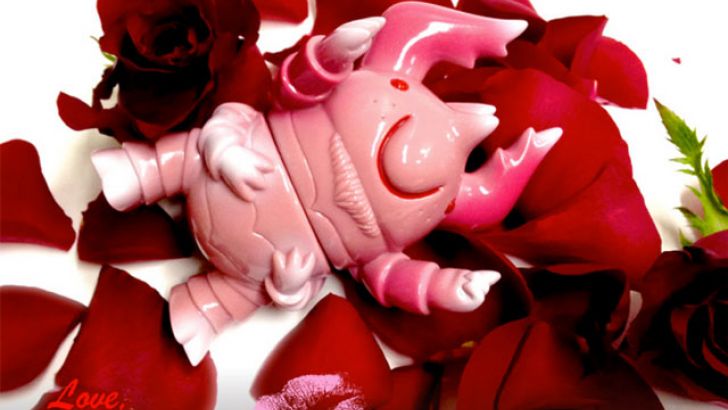 Ok! Super 7! Bwanna Spoons' "love letter written in vinyl" Valentine's Day Frederick the Beetle is cast in pink vinyl with sprays of red & white especially for Valentine's Day. The little bugger measures 4" tall and articulates at the waist. A piece of Valentine's Day Chocolate will be added to each package as a special bonus of love. Valentine's Day Frederick the Beetle will be available for $35 at Super 7's Webstore on February 7th 
Rose Vampire is going "four-wheeling" in that casket cruiser of his, tearing up fields and kicking up mud. I bet he's blasting some cheezy hair metal on the casket cruiser's radio.  The Off Road Casket Cruiser is cast in neon green vinyl with brown "mud" splatters & sprays of blue, yellow & red. Measuring 4" with a poseable head, The Off Road Casket Cruiser features metal axels and soft pvc wheels for maximum cruising action. Retailing for $65, The Off Road Casket Cruiser will be available in Super 7's webstore beginning February 21st. 
Similar posts
Friday, September 8, 2017 - 1:15pm

The Clutter Gallery is excited to open its doors this weekend to Monster Mash! Sofubi & Kaiju Showcase Vol 1.

Monday, September 26, 2016 - 3:37pm

While the pessimists are saying the designer toy scene is dead, new brick and mortar stores are popping up on both coasts. While Martian Toys expands to Philly, Gravy Toys is putting a bird on it and coming to Portland, OR.

Thursday, July 14, 2016 - 6:03pm

Super7 are bringing a metric butt-ton of vinyl to SDCC this year. 10 new colorways will be exclusive to the con, and both original designs and licensed products are on offer. A few highlights include a Doku Duo and a Dokuwash, which hasn't been seen in quite some time.