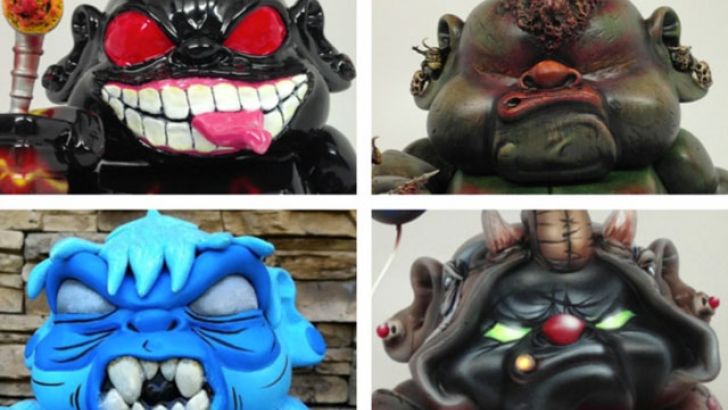 BeeFy & Co. is very busy these days with WonderCon around the corner! Their WonderCon booth is hosting several signings as well as new releases and the much anticipated So Badass, It's Good custom Bad Bad Buddha show! The show features Bad Bad Buddhas customized by over two dozen amazing artists including Shadoe Delgado, Rsin, Josh Mayhem, JFury, Spanky Stokes and Nebulon 5. This show will surely live up to it's Badass name!
BeeFy WonderCon releases include the original edition of BeeFy & Co.'s 2nd vinyl figure Ghost Tribe X Warrior. While the edition of the 7" Ghost Tribe X Warrior is 225, only 40 will be sold at WonderCon. 
Next release is Lil Buddha by MissyMToyz. This 6" figure is MissM's first production resin piece. The run for Lil Buddha is 500 but only 30 signed & numbered pieces will be sold at WonderCon! BeeFy will also have Lisa Pisa's Ghetto Bear Giclee print & Manny X's Brain Pins available at their booth. 
The signing schedule has MissyMToys signing Friday@ 2pm, Saturday @ 4pm & Sunday @ 2pm & UNCLE will be signing exclusive customs Friday @ 4pm. Saturday starts with Obscure signing prints at 12pm, DeeTen at 1pm, JRAD at 2 & Manny X signing his exclusive Brain Pins & customs at 3pm. BeeFy himself will be signing all weekend. All of these events will take place at BeeFy & Co.'s WonderCon Booth #1253!
Similar posts
Thursday, October 17, 2019 - 10:23am

Yamaraja is the latest super detailed creation from the dark and twisted mind of American Gross.

Sunday, September 29, 2019 - 1:44am

From the twisted imagination of Japan's own Tokyo Jesus comes the Oni-Tayū (太夫) -  a high ranking Oiran with a dark secret.