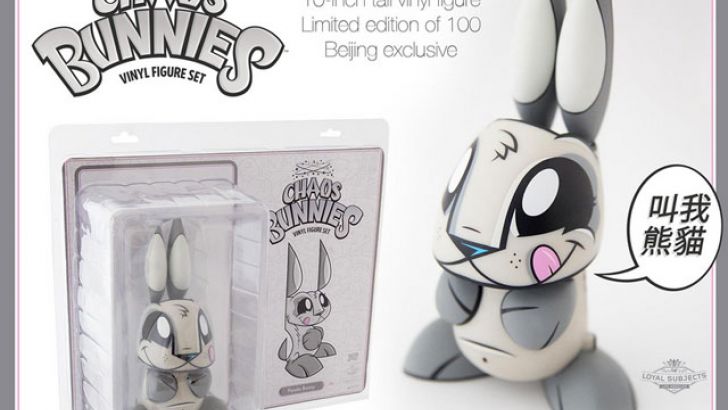 The latest member of Joe Ledbetter's Chaos Bunny series is Panda Bunny. Limited to 100 pieces, Panda Bunny will make it's debut in Bejing as an MSX Toy Gallery exclusive! If you're not planning on being in Bejing you can order your Panda Bunny directly from MSX Toy Gallery's website. Produced by The Loyal Subjects, Panda Bunny stands 10" tall & comes in a jumbo - scale blister pack. Panda Bunny retails for approximately $160 plus shipping, and will be available right here on MSX's webshop on Saturday, March 9th at 12 noon Beijing time. That translates to Saturday March 9th at 4 AM GMT & Friday, March 8th at 11 PM EST.  There is only 100 available - good luck! 
Ever hungry, slow moving, thoughtful, and apprehensive, Panda Bunny lives far up in the misty bamboo forest. Strong and powerful when she needs to be, most of her time is spent sleeping, eating, and setting booby traps - often catching wayward bunnies. She always sets them free after giving detailed directions out of the bamboo forest. If there is one thing Panda Bunny likes more than a mouthful of bamboo leaves, it's peace and quiet away from other noisy bunnies. 
Similar posts
Saturday, January 23, 2021 - 4:36pm

Clutter has teamed up with NY-based artist Kyle Kirwan to bring you a brand new designer toy platform, The Brick!

Wednesday, August 12, 2020 - 3:07pm

We are so excited to announce the first 3oz Canbot Blind Box Series!  A limited-edition toy mini-series launching through Kickstarter on Thursday, August 13th.