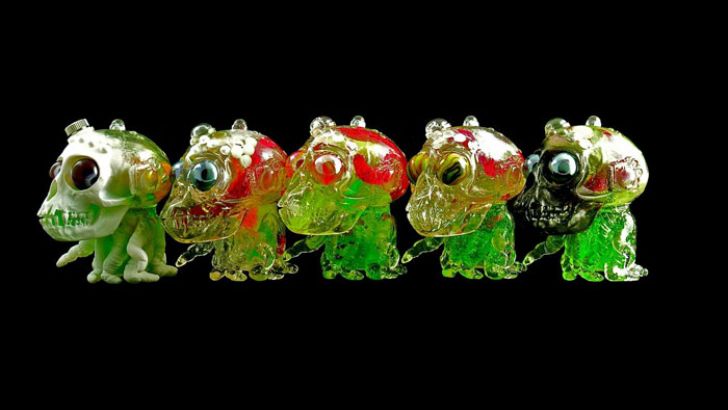 Bob Conge AKA Plaseebo has created a fantastic Exclusive Tokyo edition of the Skulloctopus From Outer Space for Rampage Toys. Made up of 5 unique & amazing pieces, the figures in this set are composed of creepy glass eyes, glow in the dark energy capsules, sticky gel brains, flies & spiders all swimming in a gooey space slime & encased in clear vinyl! Of course all of this muculent goodness is lighted with internal LED units to highlight the Skulloctopus' innards and features! All 5 of these awesome figures are available only through Rampage Toys. I haven't seen anything in Rampage's webshop yet, but definately keep your eyes open! I'm sure the Skulloctopus From Outer Space figures will sell as soon as they're posted!
Similar posts
Saturday, January 23, 2021 - 4:36pm

Clutter has teamed up with NY-based artist Kyle Kirwan to bring you a brand new designer toy platform, The Brick!

Wednesday, November 25, 2020 - 5:10pm

Meet the latest member of the Canbot family!  One Formula Canbot by Sket One! The OG legend Sket One has teamed up with Czee13 & Clutter to bring you a killer series of Canz that are Classics.