Posted by
Erica
April 08, 2013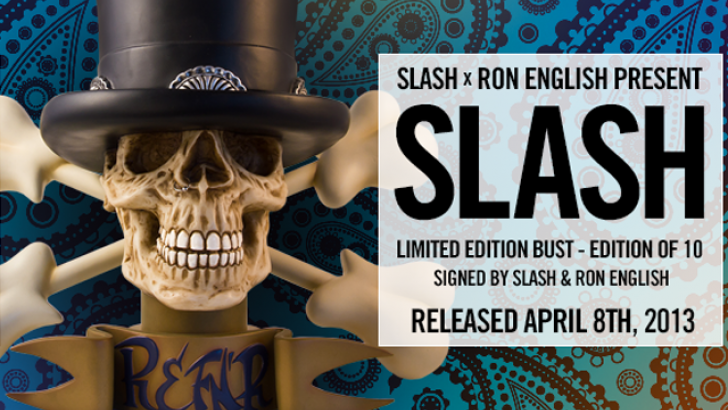 When SLASH, arguably the world's greatest guitar player, embarked on a solo career by collaborating with his favorite singers, he asked artist Ron English to create with him the cover art for "SLASH and Friends." For this project, Ron interpreted SLASH's iconic skull and top hat using his unique glowing color technique in a boudoir atmosphere complete with guitar/derriere crossbones.
In response to the popularity of the album artwork, Ron English and SLASH have worked together to create a limited edition fiberglass bust of the now iconic image. In collaboration with the prestigious Hong Kong sculpture house Garage Works, the approximately 15" tall ENGLISH SLASH bust is being released in a limited edition of 10 pieces, each signed and numbered by both Ron English and SLASH.
The RON ENGLISH X SLASH Limited Edition Bust Sculptures will be available TODAY, Monday,April 8th at 12pm EST, only on POPaganda.com!!
Similar posts
Thursday, November 19, 2020 - 10:53pm

Ron English's classic Lady Lips image is now three-dimensional as a life-size sculpture and vinyl art-toy sculpture release! 

Wednesday, February 26, 2020 - 10:30am

Join us on February 28, 2020, at 6 pm in SoHo, NYC to celebrate the amazing artwork of Ron English with some very special exclusive releases!