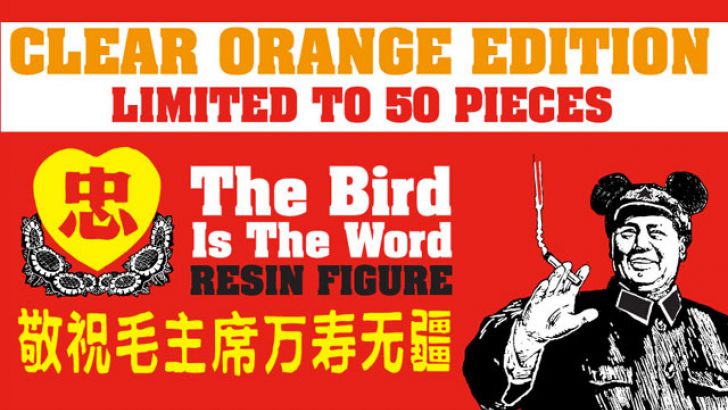 Frank Kozik has shrunk his Mao Bust down and cast it in clear orange resin for this latest Mao Bust edition called The Bird Is The Word. This 3.75" Mini Mao comes bagged with a header card and is limited to 50 pieces. Retailing for $40 plus shipping, The Bird Is The Word will go on sale April 17th at 12 noon PST right here on Kozik's website. 
"Everyone's favorite Chairman declares 'Let 100 Flowers Bloom, but keep an eye out for the poisonous weeds!' Designed by Kozik and handmade in San Francisco this clear orange gem will light the Red Lantern and Lead The Way!" 
Similar posts
Thursday, October 17, 2019 - 10:23am

Yamaraja is the latest super detailed creation from the dark and twisted mind of American Gross.

Sunday, September 29, 2019 - 1:44am

From the twisted imagination of Japan's own Tokyo Jesus comes the Oni-Tayū (太夫) -  a high ranking Oiran with a dark secret.