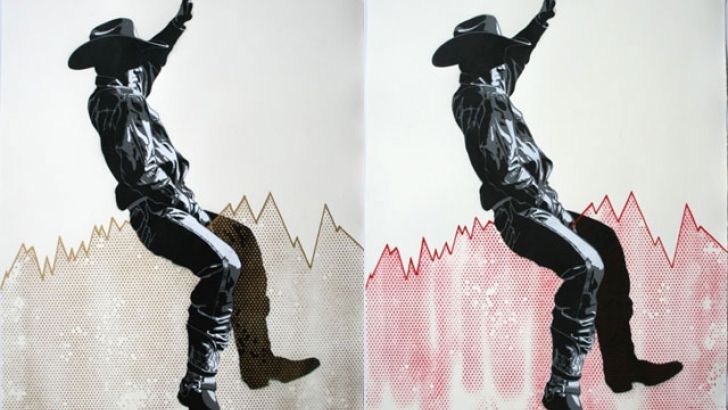 Pretty Portal has just released German street artist DECYCLE's latest stencil edition. The print is titled Bulle oder Bär (Bull or Bear) and it depicts a rodeo cowboy riding a stock chart. Bulle oder Bär is available in a red and a gold edition & both are very limited! There are only 25 prints available for the red edition of Bulle oder Bär, and the gold edition is limited to just 15! Each print is hand-sprayed on 55 x 80 cm Hahnemühle 300g/m paper so every piece is unique. DECYCLE's last stencil editions (Little Red Bombing the Hood, Moonchild, Down to Business) sold out vey quickly and Pretty Portal expects Bulle oder Bär to sell just as fast. Both the red & the gold editions of Bulle oder Bär retail for €150 and arrive signed and numbered by DECYCLE. These hand-sprayed stencil prints are available HERE at Pretty Portal!
Similar posts
Tuesday, May 29, 2018 - 12:27am

The Clutter Gallery is proud to present an amazing group exhibition curated by street artist Chris RWK!  Artists Include:

Tuesday, May 16, 2017 - 10:35pm

kaNO returns to NYC and is making a BIG splash on the Lower East Side!