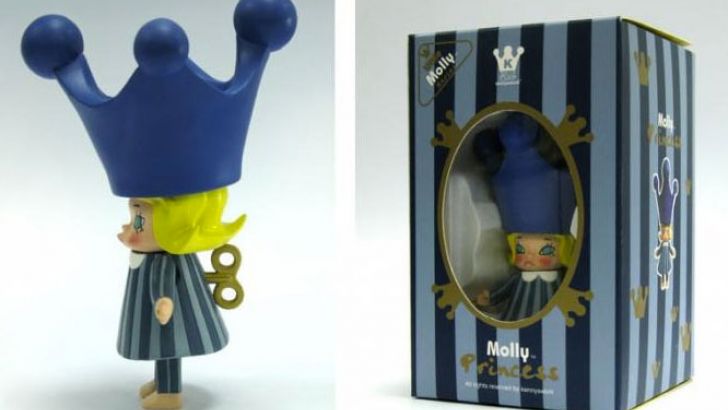 Kennyswork has added a whole bunch of Little Mollys to their Little Molly Series! The little cutie in the box shown directly above is Little Princess. She stands 4.5" tall and her suggested retail price is $26. Below is Basketball Molly and I Love You Molly. Basketball Molly stands 4.5" and is limited to 500 pieces. Her suggested retail price is $28. I Love You Molly stands on her little base waiting to give you a hug. She's 3.5" tall and will retails for $28. 
The Little Molly Goes to School and the Little Love Our Planet Molly 5th Anniversary Editions are both limited to 800 pieces each. Little Molly Goes to Schools stands 3.5" tall & Little Love Our Planet is 4.75" tall. The base for the figures is a number five, marking their 5th year anniversary. 
Little Fairy Molly and Little Bee Molly both stand 3.25" tall and retail for $26. 
Replacement patterns
My favorites are the Angry Fish Molly and the Copperhead Molly. Copperhead Molly comes with a removable old school scuba helmet with a NASTY looking fish! Both Angry Fish Molly and Copperhead Molly are limited to 800 pieces and stand 3.5" tall. 
Big Boxing Molly is bigger & badder than ever. Standing at a serious 8" tall, Big Boxing Molly will be available in blue, green, black, gold and pink color variants. Suggested retail price for Big Boxing Molly is $54. Check out Kennyswork website to more of his toys & creations! 
Similar posts
Saturday, January 23, 2021 - 4:36pm

Clutter has teamed up with NY-based artist Kyle Kirwan to bring you a brand new designer toy platform, The Brick!

Wednesday, August 12, 2020 - 3:07pm

We are so excited to announce the first 3oz Canbot Blind Box Series!  A limited-edition toy mini-series launching through Kickstarter on Thursday, August 13th.