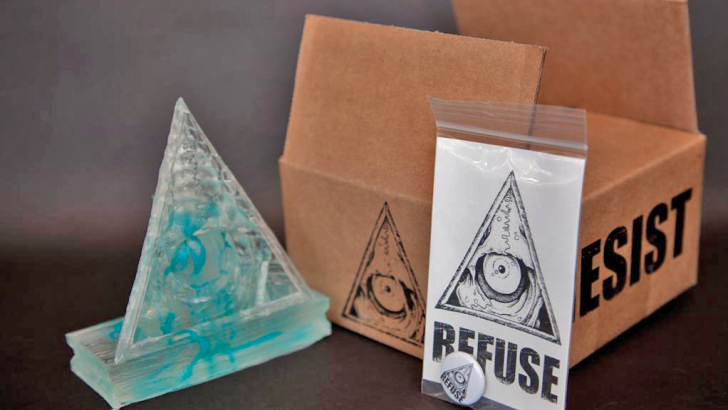 Maximum Flouride (aka Mike Fischer) is getting ready to release two brand new editions of his Pyramid Artifact resin sculptures. Set to drop on May 2nd through Frank Kozik, The White Edition & The Eye of Odin will be the first pieces from an outside artist to be published and produced through Kozik Studios. Designed by Maximum Flouride, these new Pyramid Artifacts were sculpted by Caleb Schneider, a well known special effects sculptor whose credits include The Walking Dead, Predators & The Mist. Both The White Edition & The Eye of Odin resin figures are hand sculpted, measure 5.25" and are shipped in a custom printed box with a sticker and a 1" button. While The White Edition is an open edition, only 50 pieces will be available for this run. Cast in clear resin marbled with teal, The Eye of Odin edition is limited to just 25 pieces and Maximum Flouride promises that no more will be produced in this colorway after this run is sold. The White Edition retails for $55 & The Eye of Odin will be available for $70. Earlier editions of Pyramid Artifact sold out very quickly (all 4 sold out within a day, some within an hour) & these latest editions are expected to do the same. Both of these pieces will be available in Kozik's webshop on May 2nd!  
Similar posts
Thursday, October 17, 2019 - 10:23am

Yamaraja is the latest super detailed creation from the dark and twisted mind of American Gross.

Sunday, September 29, 2019 - 1:44am

From the twisted imagination of Japan's own Tokyo Jesus comes the Oni-Tayū (太夫) -  a high ranking Oiran with a dark secret.