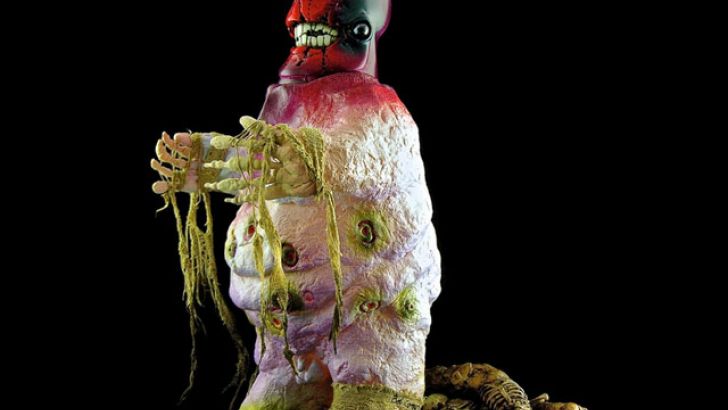 Check out the latest one-off from Bob Conge/Plaseebo! This monstrosity is called The Burgerking and he is ready to make minced-meat out of you. This HUGE hand-cast resin figure is a massive 5" x 6" x 10" tall and comes equipped with an internal motion LED unit. The Burgerking also has red glass eyes, fabric remnants and a hand-cast resin dump accessory. Since this crazy/awesome/cool figure is a one-off, there will be a lottery to see who will have a chance to purchase it. Did I mention the price is $1450? No? Ok, well, The Burgerking retails for $1450! If you're interested and want a chance to own this bad boy, just send an email to bob@plaseebo.net with your name and address by April 17th to enter the lottery. The winner of the lottery will be notified on April 18th. Good Luck! 
Similar posts
Thursday, October 17, 2019 - 10:23am

Yamaraja is the latest super detailed creation from the dark and twisted mind of American Gross.

Sunday, September 29, 2019 - 1:44am

From the twisted imagination of Japan's own Tokyo Jesus comes the Oni-Tayū (太夫) -  a high ranking Oiran with a dark secret.