Posted by
Vapdee
April 08, 2013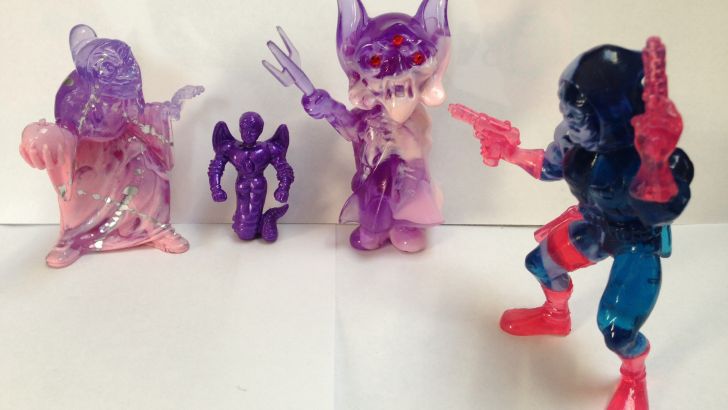 This past Friday, April 5th, saw another quick sell out of the newly created Healeymade figure Coven Witch!  Standing in at a highly detailed 3'', yes that is three inches, hand casted in Resin and in an Edition of only 13 these swirled resin figures are all unique as no two have the resin swirled the same. 
The amount of time artist David Healey puts into his work is a mystery, but with having become a master at casting some of the cleanest resin in the designer toy universe, we realize quickly that these toys are a true piece of Art.  More and more Art made in the studios of Healeymade, Sucklord, and L'Amour Supreme may be considered the Folk Art of today. 
It wasn't too long ago that L'Amour Supreme said of David Healey, "He is one of the cleanest resin artist I've seen."  I found this quote in a dedicated thread to all things Healeymade on the Skullbrain message board.
Above we see Ted holding court with his Pitch Fork and eerily glowing red eyes, while a Parish Boy mini figure looks to be hangin' tuff, and a special edition Witch Hunt figure. The Witch Hunt Figure that was a one off collaboration with the Super Sucklord, sold during the Healeymade toy drop at the SuckStore in February of 2013.
A closer look at future divorce court candidates, Ted and his Bitch...Oh I meant Witch!
In closing, we see that Vhar has come to the divorce court as special envoy to make sure that all Clear Resin and not so Clear Resin can all get along.  The above Vhar colorway is a one off, but if you like what you see, there is a Vhar Citric Summer Acid available at myplasticheart.
To find all things related to Healeymade on the interweb, take a look on his Instagram, Twitter or home page.
As an aside to this post, one can only hope that L'Amour Supreme & David Healey collide again not only to produce more toys but also to further their apparel ideas --> Mishka website.
Similar posts
Thursday, October 17, 2019 - 10:23am

Yamaraja is the latest super detailed creation from the dark and twisted mind of American Gross.

Sunday, September 29, 2019 - 1:44am

From the twisted imagination of Japan's own Tokyo Jesus comes the Oni-Tayū (太夫) -  a high ranking Oiran with a dark secret.