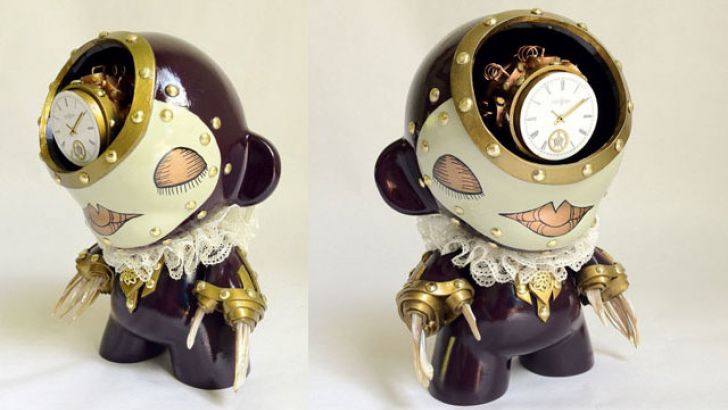 Royal Time Keeper circa 1886 is a 7" Munny created by DeeTen for Sub-Urban Vinyl's New Beginnings group show. DeeTen's Steam Punk style does not allow him to skimp on details and this custom is no exception to that rule. DeeTen did an amazing job on the clock - all of the cogs & coils are visible and the hands & face of the clock look make it look as if it were a working time piece. I especially think the Time Keeper's lace collar was a great touch. But don't let the Steam Punk aesthetic distract you from DeeTen's awesome paint job! Royal Time Keeper circa 1886 is available RIGHT HERE in Sub-Urban Vinyl's webshop for $350! 
Similar posts
Saturday, January 23, 2021 - 4:36pm

Clutter has teamed up with NY-based artist Kyle Kirwan to bring you a brand new designer toy platform, The Brick!

Wednesday, August 12, 2020 - 3:07pm

We are so excited to announce the first 3oz Canbot Blind Box Series!  A limited-edition toy mini-series launching through Kickstarter on Thursday, August 13th.