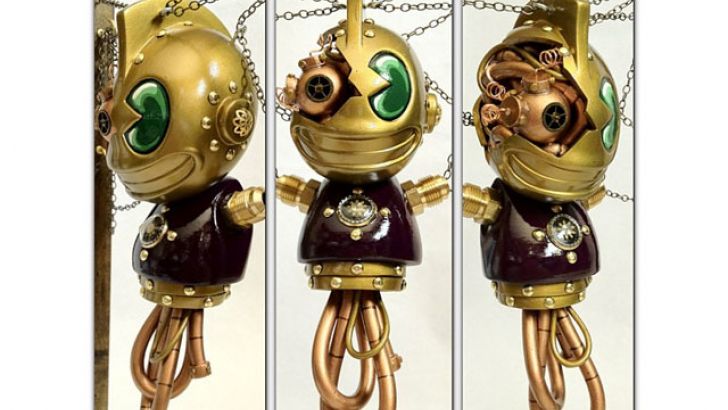 DeeTen's new custom is an awesome steam-punk take on the Kidrobot mascot figure. Titled New Alexandrian Scout circa 1886, this intricate custom's base is a 6" vinyl Kidrobot mascot. DeeTen used wood,metal & clay to complete the custom, bringing its dimensions to 14.5" high x 8.5" wide x 5" deep! Amazing! New Alexandrian Scout circa 1886 is available HERE in DeeTen's webshop for $300! 
Excerpt from "Expedition of 1886"  -  This machine was hanging in the Grand Central Museum located in the Great City of Netro. The scout was shot down while it tried to record the layout and blueprints of the city. New Alexandria has been at odds with the other 12 great cities since it attacked its rival city. Many of the great cities reported seeing these scouts over their borders, most of them being shot down. This intrusion only intensifies the world's reluctance to deal with the floating city of New Alexandria. The floating city has been missing for quite some time, many dreading its return....
Similar posts
Saturday, January 23, 2021 - 4:36pm

Clutter has teamed up with NY-based artist Kyle Kirwan to bring you a brand new designer toy platform, The Brick!

Wednesday, August 12, 2020 - 3:07pm

We are so excited to announce the first 3oz Canbot Blind Box Series!  A limited-edition toy mini-series launching through Kickstarter on Thursday, August 13th.