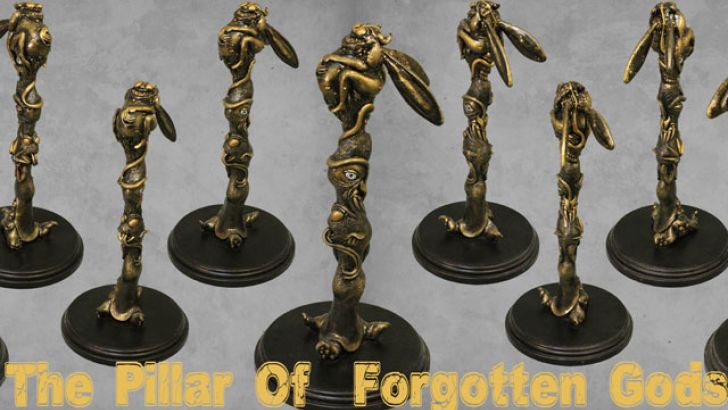 Wow! Mikie Graham's YHWH custom is awesome! Titled The Pillar of Forgotten Gods, the figure was created for the upcoming custom YHWH group show happening at Toy Art Gallery on May 11th. The one thing Mikie wanted to do when customizing this piece was to make the figure interesting from any point of view. He moved the middle eye to the back and removed YHWH's ears making them the wings of the God on top of the pillar. Mikie then used a light layer of Magic Sculpt to create the features of the individual Gods! He then placed The Pillar of Forgotten Gods on a rotating base so it can be easily viewed from any angle while on display. Nice! 
Six ancient deities stacked on top of one another,

Names lost to time, stories obscured through history.

All that is known about these long forgotten gods is that
They reigned over the earth long before man. 

Worshiped by this planet's original inhabitants and
Held holy above all else.
Similar posts
Saturday, January 23, 2021 - 4:36pm

Clutter has teamed up with NY-based artist Kyle Kirwan to bring you a brand new designer toy platform, The Brick!

Wednesday, August 12, 2020 - 3:07pm

We are so excited to announce the first 3oz Canbot Blind Box Series!  A limited-edition toy mini-series launching through Kickstarter on Thursday, August 13th.