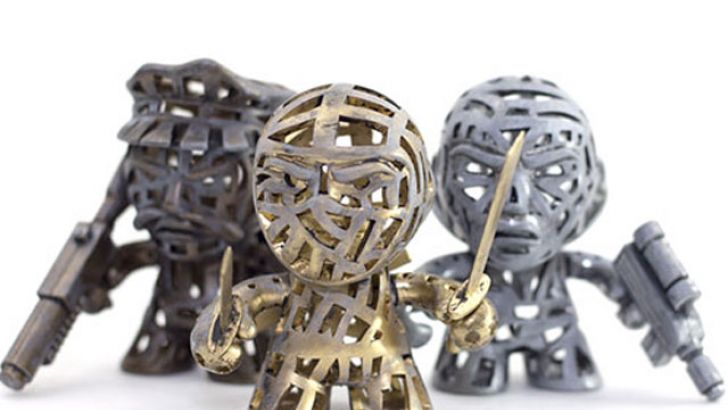 Carson Catlin will be participating in Sub-Urban Vinyl's G.I. Joe Custom group show this Friday, with his Reticulated G.I. Joe vinyl figures. The three sliced and diced customs sport a gold, silver & bronze finish as well as their own weapon (it's G.I. Joe - of course they have weapons!). The three customs will retail for $70 each and can be purchased during the exhibit. Featuring the talents of Alison Perez, Aves, Billy Roids, Brikhaus, Bryan Collins, Cash Cannon, Carson Catlin, ChipSoup, Dave Webb, Dead Hand Toys, DeeTen, Don P, Evilos, Forces of Dorkness, Fuller Designs, Ian Ziobrowski, JFury, JacobJams, Jason Chalker, Jay222, JC Rivera, Joe Scarano, Juan Muniz, Les Schettkoe, Matt A*, Mike Die, Mr. Munk, Nasty Neil, Nati513, NemO, OsirisOrion, Rusted Halo, Shawn Wigs and Tasha Zimich, the G.I.Joe group show promises to be a good one! The G.I. Joe Custom Show opens Friday, May 31st at Sub-Urban Vinyl in Waldwick N.J. with an opening reception from 4-9PM. 
Similar posts
Saturday, January 23, 2021 - 4:36pm

Clutter has teamed up with NY-based artist Kyle Kirwan to bring you a brand new designer toy platform, The Brick!

Wednesday, August 12, 2020 - 3:07pm

We are so excited to announce the first 3oz Canbot Blind Box Series!  A limited-edition toy mini-series launching through Kickstarter on Thursday, August 13th.