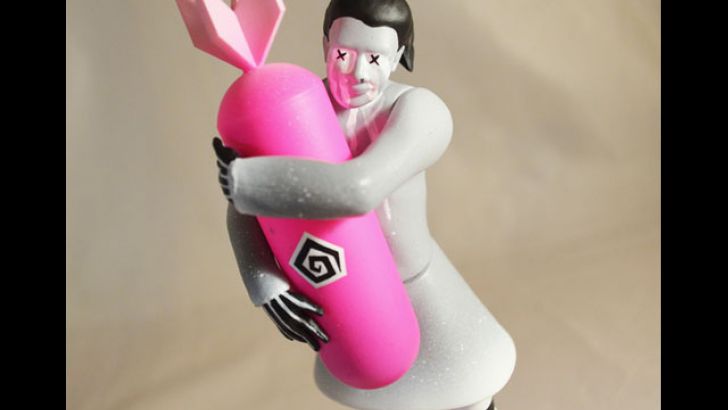 Here is A Sign of Weakness, the new custom Bomb Hugger by Ardabus Rubber. The Bomb Hugger figure is the vinyl version of the iconic Banksy image and one of the Apologies to Banksy platforms. This one-of-a-kind piece stands 6.5" tall and was customized by Ardabus with acrylic paints and airbrushing.  A Sign of Weakness comes signed and numbered 1/1 and is shipped with a custom 2" bomb keychain. Retailing for $150 (including shipping within the U.S. Shipping outside the U.S. will be an additional $15), A Sign of Weakness is available HERE in Arbabus Rubber's webshop. Ardabus promises more colorways will be available soon so keep an eye out! OH! THIS PIECE IS NO WAY AFFILIATED WITH THE ARTIST BANKSY! 
Similar posts
Saturday, January 23, 2021 - 4:36pm

Clutter has teamed up with NY-based artist Kyle Kirwan to bring you a brand new designer toy platform, The Brick!

Wednesday, August 12, 2020 - 3:07pm

We are so excited to announce the first 3oz Canbot Blind Box Series!  A limited-edition toy mini-series launching through Kickstarter on Thursday, August 13th.