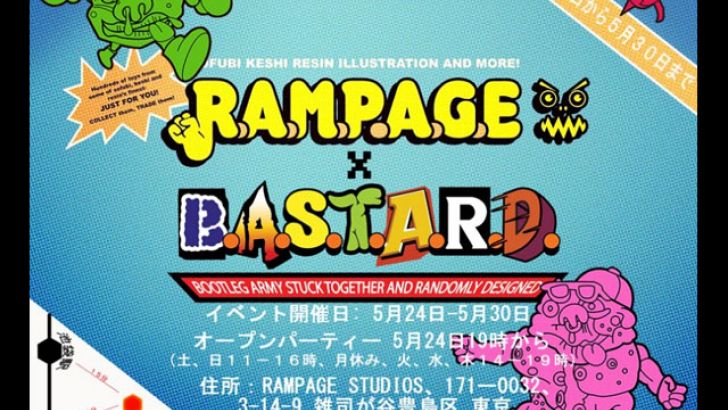 Triclops Studio's Tokyo R.A.M.P.A.G.E. x B.A.S.T.A.R.D. exhibition opens Friday, May 24th at RAMPAGE Studios! The show will feature "the wonderful bootleggery" of Triclops' B.A.S.T.A.R.D. toy line including resin, vinyl & rubber. Triclops will bring on the Peenut vinyl figure this time in blue, purple and flesh colored. Some will be available as blanks but there will be some handpainted Peenuts by R.A.M.P.A.G.E. Also featured in the exhibit will be 17 different Triclops resin mini-figures in all sorts of colors! Don't they look like a super sugary breakfast cereal? Anyway, there will be 3 new mini-figures introduced including a collaboration R.A.M.P.A.G.E. toys. 
Triclops will also be offering two new bootleg keshi figures in the Gachapon machine! There will be some other new toys and previews in the studio. The figures will only be available at the R.A.M.P.A.G.E. studio during the weekend, but the remaining figures will be in RAMPAGE's webshop beginning 5/27. Opening  reception for Triclops' Tokyo R.A.M.P.A.G.E. x B.A.S.T.A.R.D. exhibit will begin at 7pm on Friday, 5/24 at RAMPAGE Studios! 
Similar posts
Saturday, January 23, 2021 - 4:36pm

Clutter has teamed up with NY-based artist Kyle Kirwan to bring you a brand new designer toy platform, The Brick!

Wednesday, November 25, 2020 - 5:10pm

Meet the latest member of the Canbot family!  One Formula Canbot by Sket One! The OG legend Sket One has teamed up with Czee13 & Clutter to bring you a killer series of Canz that are Classics.