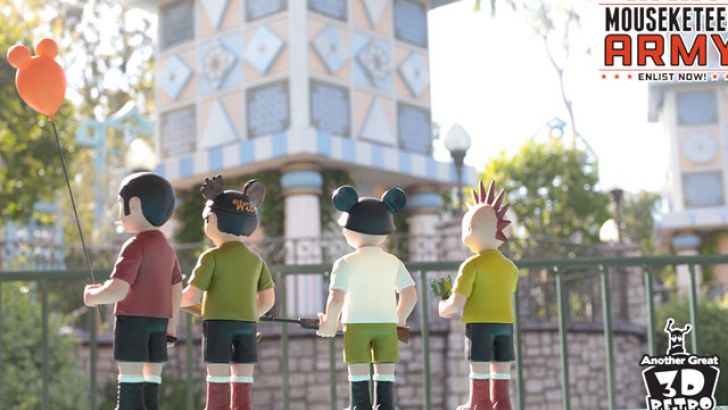 3DRetro has begun to announce their line-up of exclusives & debuts for this year's San Diego ComicCon. One of the first of several figures we'll be seeing from 3DRetro is Bob Dob's Mouseketeer Army "Wil" figure. The Mouseketeer Army is the last hope to preserve the Magic Kingdom and the first member of the Army to make it's debut is Wil. This vinyl figure stands approximately 6" tall and is ready for a fight. Armed with a bat & sporting a tattoo & a black eye, Wil will not hesitate to do some damage in the name of the Kingdom. He's limited to 250 pieces world wide and he will retail for $70 at 3DRetro's SDCC booth. Bob Dob will stop by 3DRetro's booth  & sign figures for buyers. 
On August 6th, 1970 the war began when the radical Youth International Party, aka Yippies, invaded Disneyland as a way to rebel and protest against the establishment. They were successful in taking over Tom Sawyer's Island for a "smoke-in", taunted guests with their chants of anarchy, and attempted to raise their flag at city hall. Mickey Mouse and friends were under attack. But from this event arose The Mouseketeer Army. They battled back to defeat the oppressive ideologies of the Yippies who's only objective was for Disneyland to cease to exist. The Mouseketeer Army is the last hope to preserve the Magic Kingdom.
Similar posts
Saturday, January 23, 2021 - 4:36pm

Clutter has teamed up with NY-based artist Kyle Kirwan to bring you a brand new designer toy platform, The Brick!

Wednesday, August 12, 2020 - 3:07pm

We are so excited to announce the first 3oz Canbot Blind Box Series!  A limited-edition toy mini-series launching through Kickstarter on Thursday, August 13th.