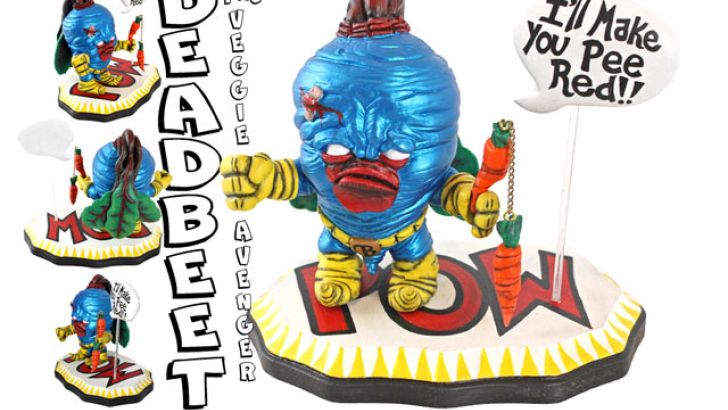 "From the chilly recesses of your refrigerator's crisper drawer a new Super Hero has emerged from the darkness and is standing up for the rights of his uprooted vegetable brethren. DeadBeet the Veggie Avenger!!"
Mikie Graham sent us some pictures of DeadBeet the Veggie Avenger, his custom DeadBeet for the upcoming DeadBeet Group Custom Show at TAG. Veggie Avenger stands atop a comic book / pop art inspired display base equipped for a fight with his removable carrot nunchucks! He also comes with an assortment of comic bubbles that you can change as the mood strikes you. The bubbles attach to a clear plastic dowel that is fixed to the base so they give the appearance of floating in mid-air. DeadBeet the Veggie Avenger will be just one of the dozens of customized 7.5" tall sofubi DeadBeets on display at the Toy Art Gallery for this show. The DeadBeet Group Custom Show opens on June, 29th at Toy Art Gallery in Hollywood, CA. 
Similar posts
Saturday, January 23, 2021 - 4:36pm

Clutter has teamed up with NY-based artist Kyle Kirwan to bring you a brand new designer toy platform, The Brick!