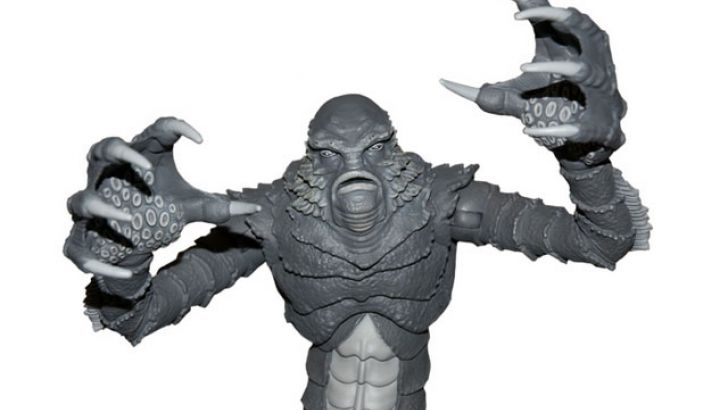 Oh my god... will you look at this thing?? I love it! Mezco have released The Creature From The Black Lagoon 9" figure in 2 incredibly fun color variants. The iconic monster is immortalized in the classic black & white of the original monster movie masterpiece and the always awesome, glow-in-the-dark materials. A GID so powerful Mezco claims "its powerful incandescence pierces the darkness of even the blackest lagoon" and that the "phosphorescent properties of this formulation put past glow items to shame." That's some serious glow-action right there. There is much more to it than the fantastic color variants. These figures have 11 points of articulation so you can pose the hell out of this Creature! As I previously mentioned, the figure is 9" tall allowing Mezco to capture all of the tiny details of the scaled, clawed & gilled amphibian. Check out his vacuous eyes and the suckers on the palms of his webbed hands! Both the classic Black & White & the GID are limited to 100 pieces each and both retail for $60. However, if you are as indecisive as I am you can buy both colorways in a 2 pack for $120. But remember, each variant is limited to just 100 pieces so quantities are limited! The Creature comes packaged in a full color window box that Mezco says is perfect for display, but with all of that articulation going on I personally would prefer to take him out of the box & pose him on the shelf.  You can purchase the Black & White colorway right HERE & the GID colorway HERE on Mezco's website. If you're interested in the 2 pack click HERE. These Mezco Summer Exclusive Creature From The Black Lagoon figures will ship during or before the last week of July. 
Similar posts
Wednesday, April 20, 2016 - 4:34pm

Between Jason Freeny's Anatomical Wabbit and Mezco's newly unveiled Bugs Bunny figure, it is definitely wabbit season.

Monday, November 23, 2015 - 9:44pm

'Tis the season for special editions. The year's Christmas-themed Be@rbricks from Medicom come in three styles. One is the obligatory Santa design, while the others sport snowflake patters that form a mosaic of a Christmas tree.