Posted by
Erica
June 28, 2013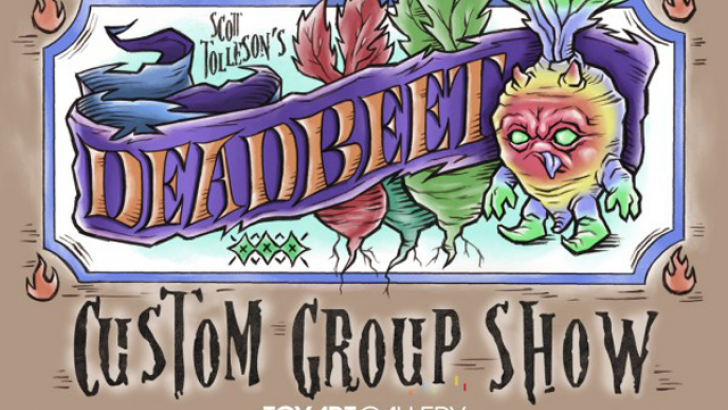 Tomorrow, June 29th, will see the opening of Toy Art Gallery's DEADBEET Custom Show! 50 worldwide artists have been invited to customize the 6" sofubi vegetable created by Scott Tolleson. 


"He's a grumpy little root. A nasty stubby bitter piece of vegetation that can't be exterminated. He will stop at nothing to destroy every garden in his path. If you have the displeasure of encountering a Deadbeet chances are there's more nearby. They come in many varieties but will team up to eliminate their enemies. Each Deadbeet you see here has been preserved very near to its original state. If you happen upon a Deadbeet in the wild it would be best to walk away. If you see more than one, run!"




The Deadbeet Custom Group Show features the following all-star international artists:
64 Colors, Adam Pratt, Ajee, Ayleen Gaspar, Blamo Toys (Mikie Graham), Brent Nolasco, Brian Flynn, Carson Catlin, Chauskoskis, D-Lux, DataDub, DrilOne, Frank Kozik, Frenzy Bros, George Gaspar, GERMS, Ian Ziobrowski, Jay222, JC Rivera, Jeremiah Ketner, Jon Knox, Julie West, Kevin Herdeman, KiLL! Graffiti, Leecifer, Map Map, Monstrehero, Motorbot, Nathan Hamill, Nebulon5, Oliver Hibert, Paul Kaiju PJ Constable, Ragnar, Rodney Rydzfski, Rsinart, Scott Tolleson, John "Spanky" Stokes, Squink, Sucklord, Sunguts, Tim Wollweber, Topheroy, Valleydweller, Velocitron, and VISEone


Join Toy Art Gallery for this exhibit opening tomorrow, June 29th from 7-10pm at Toy Art Gallery's showroom located at 7571 Melrose Ave. Hollywood CA 90046.

The Deadbeet Custom Group Show runs through July 21st.
Similar posts
Friday, January 13, 2017 - 9:24am

Scott Tolleson and Kidrobot have teamed together again-this time it's the Labbit platform that's getting the argyle treatment!

Friday, November 4, 2016 - 3:40pm

You probably don't need much convincing to go to DCON this year, but just in case you do, check out the preview for the Toy Within a Toy exhibition organized by Broke Piggy.