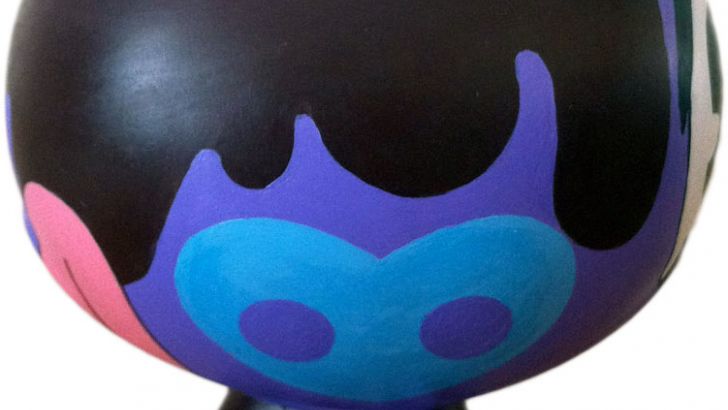 We're proud to announce one of the winners from our RAAAR! design contest: South African newcomer Matty Naudé! The contest was held from March until May of this year, asking talented designers the world over to create their own RAAAR! on a turnaround template. With winners selected by Clutter and Dynamite Rex, the victorious handful got a chance to customize their creation and be included in our upcoming "Custom RAAAR! Show" gallery exhibition.
Below is Naudé's customized 6" vinyl RAAAR! figure, which has become a cupcake obsessed darling of a dino, as well as the original design sheets she submitted to the online contest.
"The Custom RAAAR! Show," a custom group exhibition done in collaboration with Dynamite Rex, will open on Saturday, August 10th with a reception from 6-9PM local time and be on display until Friday, September 6th, 2013 at The Clutter Gallery, 163 Main St., Beacon, NY 12508.
Prior to the exhibition opening, members of The Clutter Gallery's Preview List will be able to purchase pieces from the show. Those interested in adding these fantastic works to their collection should join the Preview List HERE.
Participating Artists Include: Angella Powell, Ardabus Rubber, ArtmyMind, Bashprojects, Betso, Charles Rodriguez, Chuckboy, coolvader, Cucaracha Borracha, FullerDesigns, Haus of Boz, Ian Ziobrowski, Igor Ventura, Jason Limon, JC Rivera, Jeremiah Ketner, JFury, Kevin Gosselin, Kong Andri, Laura Lorén, MAp-MAp, Matty Naudé, Nerviswr3k, Nikejerk, Otto Björnik, Patrick Wong, PodgyPanda, Rsinart, RunDMB, RX, Sekure D, Sergio Mancini, 64 Colors, Stuart Witter, Task One, UNCLE and the winner(s) of the design contest.
Similar posts
Monday, September 3, 2018 - 10:02pm

The Clutter Gallery is proud to present an amazing solo spectacular from artist duo, Horrible Adorables! 

Monday, September 3, 2018 - 9:50pm

From the farthest reaches of Outer Space, beyond the Gum Gum Galaxy and the Nougat Nebula, lies a planet of Magical Sparkle Glitter. Once a year the inhabitants of the tinsel covered shiny wonder that is Planet Rainbow Sparkle invade the Clutter Gallery.