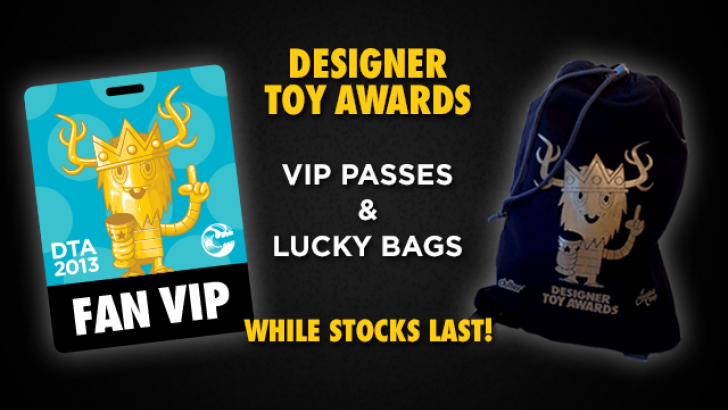 In celebration of our upcoming 3rd Annual Designer Toy Awards Ceremony, we are proud to announce the return of one of our most popular offerings last year: the DTA Lucky Bag!
We once again pulled out all the stops and ask over 60 of our industry friends to contribute production pieces, rarities and oddities to make some amazing Lucky Bags. Contained within each reusable bag could be anything from custom "one-off" figures to unreleased colorway prototypes, from original artwork to completely exclusive editions… and, of course, there will be hordes of released figures in there, as well as other surprises. 
And while no two bags are exactly the same, there will be two of the $500 Lucky Bags that will contain the currently unreleased Craww x Kidrobot Black "Murder" vinyl sculptures, sneak peak below. 
And four that will contain test Big Muscamoot Lake Monster 1 of 1's. Figure design by Chris Ryniak, paint by Joe Somers for Squibbles Ink + Rotofugi.
These are just the tip of the iceberg!! 
You can buy the Lucky Bags in two options…
The $500 Lucky Bag, guaranteed to contain over $1000 worth of items:
Or the $250 Lucky Bag, guaranteed to contain over $500 worth of items:
So who contributed to these Lucky Bags? Each one might contain pieces from:
64 Colors, Anna Chambers, ArtmyMind, Bitbots, Brutherford, Camilla d'Errico, Carson Catlin, Doktor A, ESC Toy, Ferg, FrankenFactory (Shea Brittain), Freak Store, Fuller Designs, Healeymade, Hollow Threat (Paul Shih), Haus of Boz, Jay222, JC Rivera, Junko Mizuno, K.olin tribu, Kidrobot, Konatsu, Lunartik (Matt JOnes), Max Toy Co., Mikie Graham, Mimoco, Monster Worship, MonsterPants, Motorbot, Mujuworld, Munky King, October Toys, Okedoki, Peter Kato, Proyecto Ensamble, Rampage Toys, Red Mutuca Studio (Sergio Mancini, Luihz Unreal & Igor Ventura), Squibbles INK + Rotofugi, Super7, Shawnimals, Squink!, T9G, Tenacious Toys, The Loyal Subjects, Tokidoki, Tomenosuke,  VTSS, Yoskay Yamamoto and many more!
These are available right now in the Clutter Magazine online shop!
Please note: Limit one bag per customer. Please note that quantities are extremely limited and allocations may occur. Lucky Bags will not ship until after October 15th.
Also don't forget that we still have limited quantifies of tickets to the event available.
Similar posts
Tuesday, February 13, 2018 - 6:39pm

Nominations are officially open for the 8th annual Designer Toy Awards!