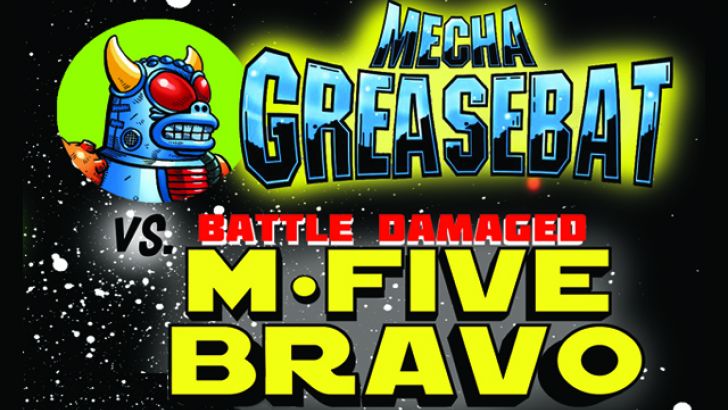 Welcome to the Battle of the Century: "Mecha Greasebat vs. M5 Bravo!" Aside from being the showdown you've been longing for, it is also the name of Jeff Lamm's newest solo exhibition taking place at The Clutter Gallery! Featuring original illustrations, silkscreen prints, canvas prints, and digital prints, this show will also feature "M5 Bravo & Stee-Gar" flocked vinyl figure two-packs as well as the "Greasebat & Friends Gummi Play Set" in the Sakhalin Blood Red colorway produced by Unbox!
And, as a special bonus, it will feature the debut presentation of the new "Battle-Damaged M5 Bravo" vinyl figure, designed by Lamm and produced by Unbox!
This show will open on November 9th with a reception from 6-9PM and will be on display until December 6th at The Clutter Gallery, 163 Main St., Beacon, NY 12508.
Please RSVP to the exhibition, as well as stay informed with updates, by joining the Facebook event: facebook.com/events/533474423415322/
Not able to make the opening? Sign up for our preview list so that you don't miss out: cluttermagazine.com/about/gallery-preview-list
Similar posts
Monday, September 3, 2018 - 10:02pm

The Clutter Gallery is proud to present an amazing solo spectacular from artist duo, Horrible Adorables! 

Monday, September 3, 2018 - 9:50pm

From the farthest reaches of Outer Space, beyond the Gum Gum Galaxy and the Nougat Nebula, lies a planet of Magical Sparkle Glitter. Once a year the inhabitants of the tinsel covered shiny wonder that is Planet Rainbow Sparkle invade the Clutter Gallery.