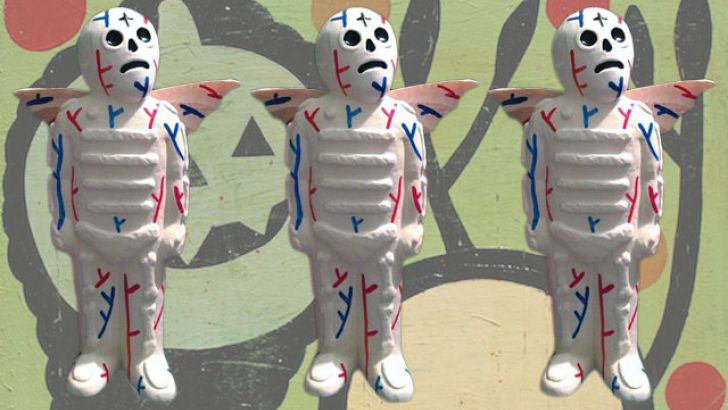 Mike Egan's 8-inch tall "Bones" figure, cast in white Japanese vinyl, has earned his wings but still resides in a coffin. These 2013 Designer Con special figures are not only hand-painted themselves, but come with an 11-inch tall wooden coffin that has also been hand-painted by the artist. These fantastically frightful pieces have been made in an edition of 25 copies, each signed and numbered, available exclusively from DKE Toys's DCon Booth #126 for $150 apiece.
Similar posts
Thursday, November 19, 2015 - 10:19pm

Kidrobot aren't just dropping a bunch of great releases at DCon this year.

Thursday, November 19, 2015 - 7:56pm

Studio Uamou weren't at NYCC this year, but you'll be able to make up for that at DCon. Ayako Takagi and crew and bringing a bunch of limited editions of her Uamou figure. Deep Galaxy Uamou has a nebulous paint job that sports plenty of tiny bits of glitter.