Posted by
Miranda
November 29, 2013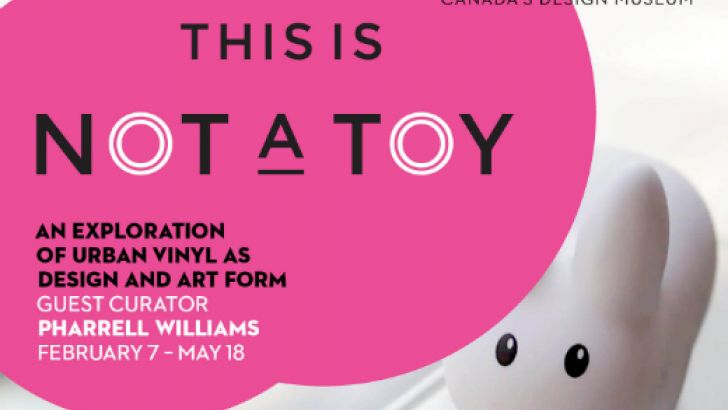 Canada's Design Museum, The Design Exchange (DX) is set to play host to a large scale exhibition of Designer Toys: This Is Not A Toy. Conceived and co-curated by John Wee Tom, co-founder of the Templar Hotel, with DX Associate Curator, Sara Nickleson, they brought in arguably one of the biggest collectors in our industry Pharrell Williams as a high profile Curator. The exhibition aims to explore Designer Toys as Design and Art forms. Running from February 7th until May 18th 2014, there is plenty of time for us and you, to take the trip.
"Pharrell personifies this century's renaissance man. His influence on music, fashion, design and contemporary art is profound. From penning and performing 2013's hottest songs to the furniture he designed for Emmanuel Perrotin Gallery, to his BBC/Ice Cream streetwear, he is truly ubiquitous. But it was his amorous relationship with urban vinyl and contemporary art that precipitated this collaboration with the DX... I am thrilled to host another first for the Design Exchange, Canada's Design Museum." - Shauna Levy, President of the DX
The exhibition space will be transformed into a life-size dream world, with figures ranging from mini to life sized. Also on display will be pieces from the personal collection of Pharrell.
Artists on display include: 
KAWS, FriendsWithYou, Takashi Murakami, Yoshitomo Nara, DOMA, Misaki Kawai, Bill McMullen, Frank Kozik, Coarse, Huck Gee, and other influential toy artists, plus producers Kidrobot andMedicom.
DESIGN EXCHANGE (DX): EXPERIENCE DESIGN AT CANADA'S DESIGN MUSEUM
Established in 1994, the Design Exchange (DX) is Canada's only museum dedicated exclusively to the pursuit of design excellence and preservation of design heritage. At a crossroads of multiple disciplines, from furniture and architecture to graphics and fashion, DX exhibitions and talks are curated to reflect the popular zeitgeist and contemporary culture, while demonstrating the relevancy and importance of design to everyday life. Under the leadership of President, Shauna Levy, and a renewed strategic vision beginning March 2012, the DX has hosted renowned traveling exhibitions from prestigious cultural institutions across the globe, including Stefan Sagmeister's The Happy Show from the Institute of Contemporary Art in Philadelphia and theChristian Louboutin retrospective from Design Museum London. Educating and awareness-building from its downtown Toronto location in the historic and original Toronto Stock Exchange building, the non-profit charity attracts thousands of visitors of all ages each year.
Similar posts
Wednesday, April 11, 2018 - 11:07pm

Clutter Gallery is proud to bring a unique sales event to our collectors!

Thursday, October 20, 2016 - 2:16pm

It seemed like KAWS was done with vinyl toys, and I don't think this really changes that, personally. But either way, you can snag six "new" Companions from Modern Art Museum of Fort Worth's online shop.