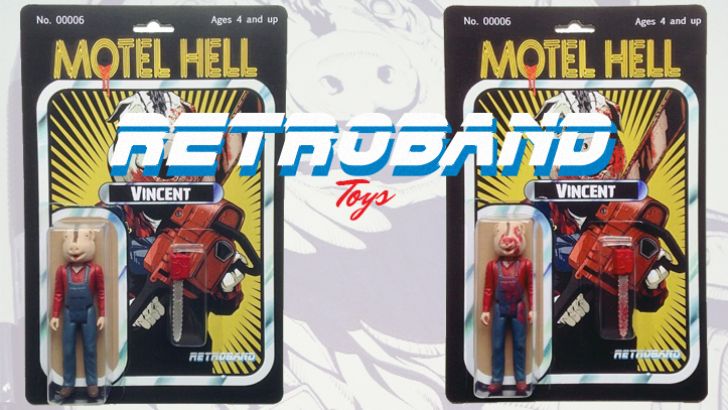 The nostalgic magic maker known as Retroband — who lives by the slogan "making toys I wish they had growing up" — continues to plunder classic action figures, converting them into pieces inspired by '80s horror films that he loves. Made exclusively for The Clutter Gallery's upcoming "(In)action Figures 2" exhibition, Retroband unleashes "Vincent," inspired by the flick Motel Hell. These figures are cast in resin and hand-painted in acrylics with flocked aspects, each coming with a chainsaw accessory and packaged on a full-color, double-sided 6" x 9" backing card with art by Worthy Enemies.
Available in two versions — Regular, limited to 10 pieces at $125 each, and Battle Damaged, limited to 5 pieces at $150 each — this will be the only piece from the "(In)action Figures 2" show that will not be available on a first come, first served basis. Rather, due to the already expressed high demand, those interested will be entered into a lottery — one online, one in-person at the opening reception — for the ability to purchase this highly desired objet d'art. And, of course, there will also be a limit of one (1) figure per person placed on this piece.
Instructions on how to enter the online lottery will be mailed solely to members of the Gallery Preview List on the morning of Saturday, January, 11th, 2014. If you are interested and you are not a member of the Preview List, sign up now.
The in-person lottery will take place during the "(In)action Figures 2" opening reception on January 11th, 2014. While the reception begins at 6PM, the lottery will take place at 8PM.
"(In)Action Figures 2," a group exhibition elevating action figure art, will open on January 11th with a reception from 6-9PM local time and be on display until January 31st, 2014 at The Clutter Gallery, 163 Main St., Beacon, NY 12508.  Those unable to attend the opening but interested in pieces should join The Clutter Gallery's Preview List, which allows members to purchase pieces prior to the opening.
Similar posts
Monday, September 3, 2018 - 10:02pm

The Clutter Gallery is proud to present an amazing solo spectacular from artist duo, Horrible Adorables! 

Monday, September 3, 2018 - 9:50pm

From the farthest reaches of Outer Space, beyond the Gum Gum Galaxy and the Nougat Nebula, lies a planet of Magical Sparkle Glitter. Once a year the inhabitants of the tinsel covered shiny wonder that is Planet Rainbow Sparkle invade the Clutter Gallery.