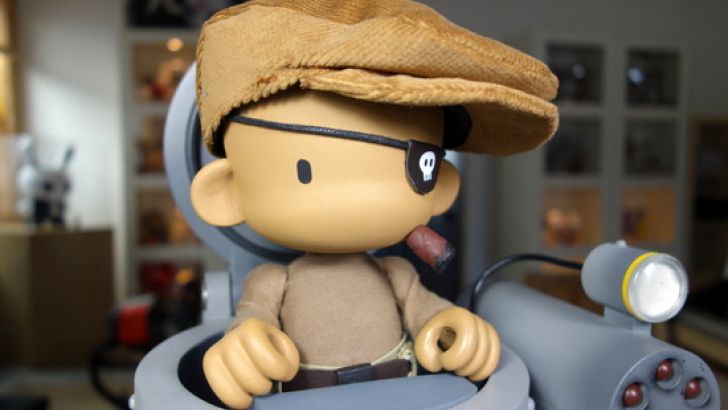 Huck Gee has just announced his lastest run of customs DAME #11. This is the first custom series based on Gee's brand new platform toy, The Blank. Standing at a whopping 15" tall, the pilot fits inside. This is released as a signed and numbered piece, limited to 10. Each is priced at $1800  + Shipping and Handling. These will fly away, so if you do want to snag one email sales@huckgee.com NOW!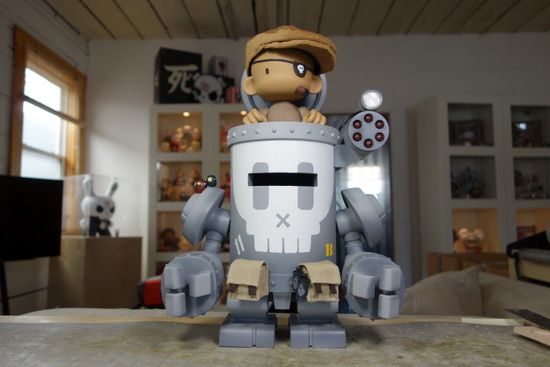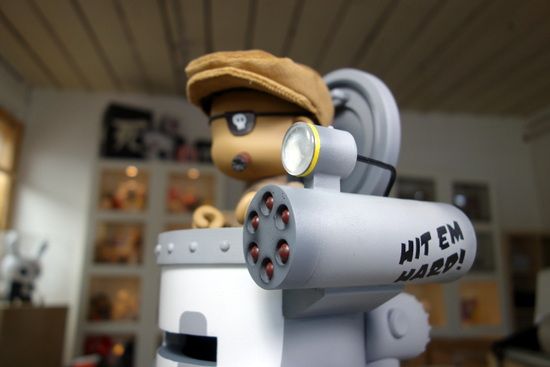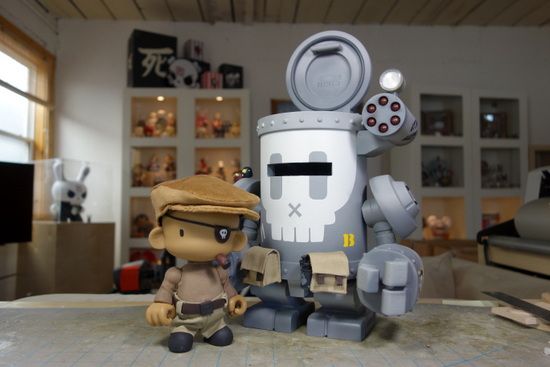 -----
The long quagmire of trench warfare was overturned with the invention of the mobilized pillbox. The air battle may have continued to rage overhead but ground warfare was revolutionized with the invention of the Diesel Armored Mobile Emplacement. The first mechanical contraptions were primitive in design but they proved their overwhelming effectiveness at the battle of Mulford Sound. Engineers on both sides were quick to improve on each subsequent design with some engineering (evil) geniuses pushing the concept into unimaginable directions.
The open fields and city streets may have been where territories were won or lost but with the Mobile Emplacement arms race heating up, espionage was quick to become one of the most important battlefields of this war. Trench coats and black clad operatives, inside jobs and back alley exchanges, break ins and hidden cameras. Spurred by fear and paranoia DAME factories became small armed city states unto themselves. Salaryworkers living on site, working around the clock, locked away behind desperate layers of security. 
The DAME pilots themselves are known to form close bonds with their mechanized units. Emblazoning their steel with pinups, graffiti and fanciful female names. The brass initially tried to curtail these endeavors but quickly realized that that special DAME/pilot bond produced a better warrior. For some of these pilots, this was all they had: they eat, sleep, live and breathe their DAME. And that unique bond might just be what would win this war.
This is the world of the Dapper Little Scoundrels.
"Just a few short years ago who could've imagined a battlefield strewn with giant lumbering mechanized tin can knights. It's like some unimaginable mash up of our history and future." - anonymous lad on the underground
Similar posts
Friday, November 24, 2017 - 12:23pm

One of the most requested resin releases of the year, the Octoblank, is back with a brand new colorway! 

Tuesday, July 25, 2017 - 8:46pm

Clutter and The Designer Toy Awards are excited to announce the first colorway release of the epic Huck Gee design – SKLFKR:UNTOUCHED!!