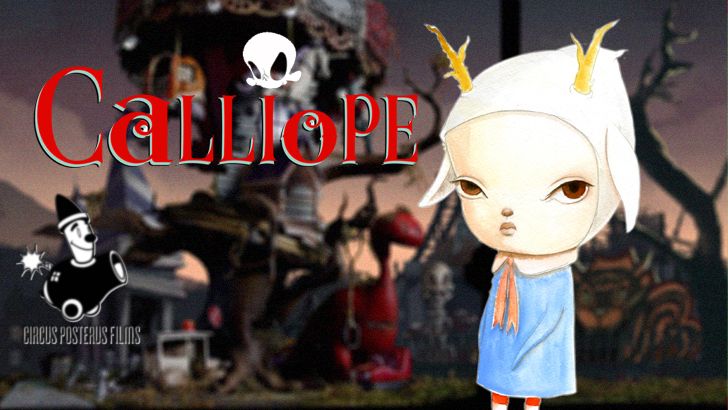 Just in time for Halloween comes a Kickstarter campaign for a spooky stop-motion film, Calliope, that brings together all-star creators from the world of designer toys (Circus Posterus' toy designers Kathie Olivas and Brandt Peters), stop-motion innovator and Annie Awards Special Achievement recipient Martin Meunier (Coraline) and filmmaker Jon Schnepp (The Death of "Superman Lives": What Happened). Based on Olivas' classic toy character Calliope Jackalope, Calliope is a post-apocalyptic, fantasy adventure about an other-worldly girl who's unaware that she's actually Pestilence, one of the four horsemen of the apocalypse. If funded through the now live Kickstarter campaign, Calliope will be written and co-directed by Meunier, Olivas and Peters, executive produced by Schnepp and feature artisans, animators, and fabricators that have worked on stop-motion features including Tim Burton's The Nightmare Before Christmas. Calliope is planned as an 8-10 minute stop-motion short film and is the most ambitious project yet from the husband and wife creative team of Kathie Olivas and Brandt Peters; it will be the first production from Circus Posterus Films, the couple's New Mexico-based arts collective Circus Posterus.
"Calliope Jackelope has been a part of my world for a long time, on paper and as a toy," said Kathie Olivas. "Seeing her fully animated in Calliope is the best kind of surreal."
"This is a story steeped in mysticism and the paranormal and we could not think of a better collaborator than Martin Meunier, who's worked on Coraline, The Life Aquatic with Steve Zissou, and Starship Troopers," said Brandt Peters. "Martin's on board not only as co-director and visual effects manager, but also as a contributing writer on Calliope and we could not be more excited."
"Calliope will use stop-motion production standards often reserved for feature film," says Martin Meunier. "There will be evocative sets, hand-built puppets, and breathtaking visual wizardry that bring the Calliope fantasy tale to life."
The Calliope Kickstarter campaign will feature a number of creative rewards, including a comic book written by Olivas, Peters and Jon Schnepp with art by Olivas, Peters and Dennis Cornetta. "The original Calliope comic book will reveal Stingy Jack's backstory and his connection to the Brides," said Schnepp. Jon Schnepp was the director and co-producer of Metalocalypse and co-director on The Venture Brothers on Cartoon Network's Adult Swim and contributing Director on the horror/comedy anthology film, The ABCs of Death; with his most recent crowd-funded project completed is the feature length documentary he wrote, co-produced, and directed, "The Death of 'Superman Lives'; What Happened?"
Other rewards available exclusively through the Calliope Kickstarter campaign include:
A 4-figure mini toy set, fabricated by Cardboard Spaceship Toys, based on the second installment from next year's Olivas-Peters imagined Wandering Misfits mini series;
A brand new vinyl toy figure, also from Cardboard Spaceship, based on Peters' Night King;
An exclusive color design of the 'Bat with a Secret Past' from Peters' Stingy Jack's universe;
Olivas and soft sculpture/fine artist Lana Crooks' micro-edition Calliope resin sculptures with fabric costuming;
Peters-designed toys made in Japan by toy company Tomenosuke, hand airbrushed by Peters;
A handmade talking Spirit Board which allows you to play an interactive role in the Calliope story through Divination;
and a new Oracle Deck, like the one Calliope uses in the story's haunting nod to American Spiritualism.
Peters and Olivas have long offered their Circus Posterus creations, including Calliope Jackolope, directly to the public through their flagship gallery and store, Stranger Factory, which has just moved to a new location along historic Route 66 in new Albuquerque, New Mexico. This is their first Kickstarter campaign.
"By funding the film independently on Kickstarter, we can make sure the film looks and feels exactly the way we, the artists, want it to," says Peters, who also has a background as a concept and development artist and production designer on animated films.
Clutter Magazine was also lucky enough to interview Peters about this project, which will be published in the forthcoming issue #32.
The Kickstarter campaign to fund Calliope, live through November 24th, is at: https://www.kickstarter.com/projects/1933555525/calliope-stop-motion-animated-short-film.
Similar posts
Monday, February 5, 2018 - 8:15am

If you're kicking yourself for missing out on Rato Kim and Discordia Merchandising

Friday, February 2, 2018 - 12:38pm

Our good friends at Urban Vinyl Daily, The Bots and 64 Colors (what a trio!!) are entering the final few hours of the Luna a