Posted by
Miranda
December 11, 2015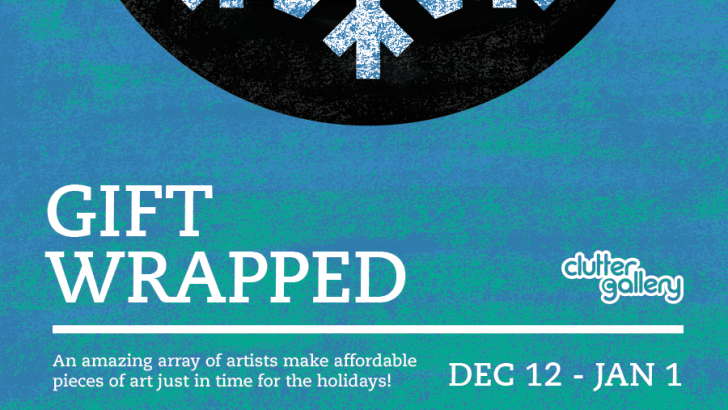 Tomorrow is the Clutter Gallery's annual cash and carry show, Gift Wrapped. This amazing exhibition will feature over 40 incredibly talented artists, and most pieces will be sold for under $150! This provides you with the perfect opportunity to purchase holiday gifts for loved ones or even just for yourself. It's a great option if you're looking for affordable art during the holidays!
Participating artists include Awesome Toy, Beastlies, Bleeding Edges, Bog x Squad, Brent Nolasco, Brittany DiPero, Camilla D'Errico, Candie Bolton, Cassandra Jerman, Cat Atomic, Crux, Crystal Jade Vaughan, Daniel Fleres, Funk Muffins, Jeff Lamm, Jenn & Tony Bot, Jeremiah Ketner, JFury, HungryGhost, Jump Jumper Ant, Kearjun, Kelly Denato, Kyle Kirwan, Leecifer, Lucent Morphics, Mariangela Tan, Peter Kato, Sara Leigh, Seriously Silly K, Shadoe Delgado, Simona Candini, 64 Colors, Skull Toys, Stacia Murphy, Sugar Fueled, Tasha Zimlich, twelveDot, 2petalrose, TwistyBitz, Valency Genis, and wetworks.
The gallery opens from 6:00pm to 9:00pm on Saturday, December 12th at 163 Main Street, Beacon NY 12508. It's first come, first serve and some of the pieces are limited edition, so make sure you get here early!
Don't forget to sign up for the Gallery Preview List.!! This is the only way to view all the art pieces online before they actually go on sale, and will allow you to purchase pieces online at 2pm before the gallery opens to the public. 
So stop by the gallery tomorrow or check the shop online! We have so many amazing creations to display, you'll regret missing out!