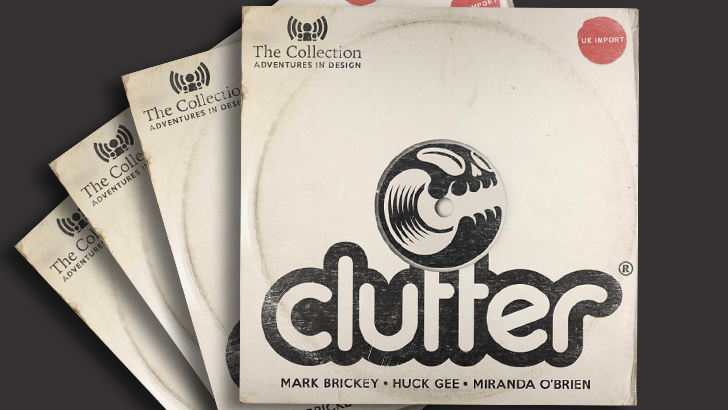 A few weeks ago my good friend Huck Gee invited us to be his guest on the "The Collection" a Designer Toy / collecting podcast that happens every first Wednesday of the month, as part of the "Adventures in Design" series. As co-founder of Clutter I have known Huck for a long time, we've partied on both sides of the Atlantic together, and have many fun stories, so I could hardly say no ;)
I had lots of fun talking toys and shop with Huck and the fantastic host Mark Brickey. It feels like we only scratched the surface of the topics we covered, so hopefully we can do it again on day... maybe we'll have a designer toy round table! 
Anyway, please check out the podcast, I hope you enjoy listening as much as I did chatting. Click on the link below, and make sure you subscribe to "Adventures in Design", it truely is fantastic! 
The Collection Volume III: Listen Here
---
This is what they had to say:
Episode 342 "The Collection with Huck Gee Volume III: Miranda O'Brien of Clutter Magazine"
Miranda O'Brien has her own tiny empire that she runs with her husband and friends, Clutter Magazine, Clutter Studios and Gallery. On top of running the Clutter empire once a year she throws a little party called the Designer Toy Awards. Everything she does comes from the perspective of a fan who loves collectible toys and her number one goal is to educate / recruit new people, that she hopes will love Miranda's corner of the art world as much as she does. 
Miranda O'Brien of Clutter Magazine Interview
• How Miranda fell in love with collectable toys and publishing. 
• Creating a collectable magazine for audience that loves collecting.
• Diversifying from strictly publishing a magazine and getting into the retail game.  
• The importance of educating fans of art to hopefully grow your niche. 
• Creating an award ceremony and creating enemies (until they win).
• Gateway drugs. Using entry level products to transition passers-by into passionate collecting fans. 
Shop Talk with Mark Brickey, Huck Gee and Miranda O'Brien of Clutter Magazine (Paid Content)
• How the global economy relates to the world of collectors.
• Why it's important to have industry trendsetters and tastemakers.
• Running a free magazine versus a paid subscription model.
• Making an empire with the person you make love to!
• Premium level art toys and how licensed goods can help fund these passion projects. 
• How reinventing the lifestyle behind collectable toys could be the shot in the arm that the scene needs. 
• Has social media destroyed an industry in need of a cloak of mystery?
---
Learn more about Huck Gee here.
Similar posts
Friday, November 24, 2017 - 12:23pm

One of the most requested resin releases of the year, the Octoblank, is back with a brand new colorway! 

Tuesday, September 5, 2017 - 10:16pm

Issue 44 of Clutter Magazine is available now and features a brand new cover design with amazing photography by our west-coast friend Robert Howell!!