Posted by
marc
September 15, 2016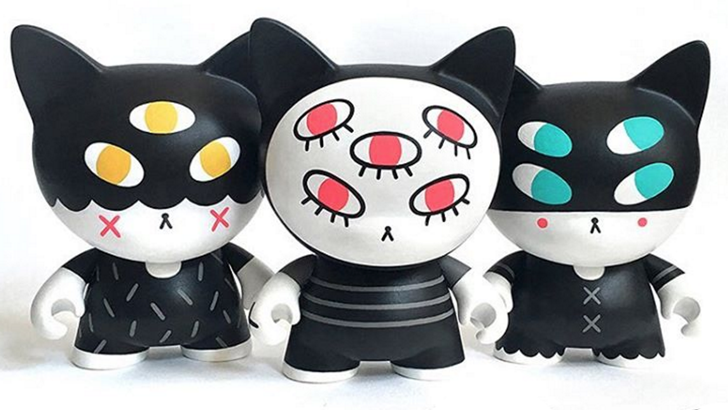 We recently got a sneak peek at Andrea Kang's customs coming to myplasticheart's NYCC booth. The piece was clearly adorable and perfectly painted, but the full reveal is still astonishing. These Trikkys - collectively titled "SAINTS" - hit the perfect spot between cute and bizarre. The kittens are suited up in pajamas - normal enough - but they have one and three too many eyes! The third, fourth, and fifth cat eyes see all. I don't know about you, but I'm thinking a SAINTS blindbox series produced by Kidrobot would be a hit. Each custom is priced at $225 and will be available at booth #113. Andrea will be signing at the booth at 2PM on Friday, too!
Check out more Andrea Kang here | See more NYCC news here
Similar posts
Saturday, January 23, 2021 - 4:36pm

Clutter has teamed up with NY-based artist Kyle Kirwan to bring you a brand new designer toy platform, The Brick!

Wednesday, August 12, 2020 - 3:07pm

We are so excited to announce the first 3oz Canbot Blind Box Series!  A limited-edition toy mini-series launching through Kickstarter on Thursday, August 13th.