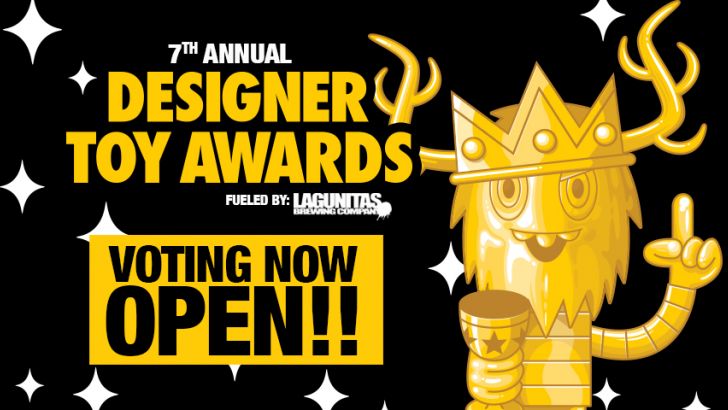 Are you ready to get voting? It's your time to choose your favorites of 2016!!
Our nomination committees worked tirelessly to whittle down the 100's of nominees into the top 9 for Panel Voted, and top 12 for Public voted awards. It's been a labor of love for the committees who have worked tirelessly to discuss daily, each entry and every category in depth! Believe us when we tell you that this process is not for the faint hearted!
We would like to take this opportunity to sincerely thank the Designer Toy Award committees for all their hard work, they really go above any beyond for this process!

Pro Committee: Huck Gee, Dov Kelemer, Kirby Kerr, Benny Kline, Travis Lykins, Gary Rozanski, John Stokes, Vincent Yu, Keegan Rooney, Kyle Kirwan, David Schlesinger and Jason Freeny.
​
Public Committee: Justin Cheah, Lee Funai, Ketha Insomphou, and Rob Lumino.
Together, they created our Shortlists of 2017! Congratulations to all the finalists!
And now it is up to you–yes, you!–to vote on the best of 2016!
 
Voting in the DTA public categories is easy as cake. Just follow these steps:
Log in or create a new account on the site.

Go to the categories page.

Vote once in each of the six awards under Public Voting.
Tada! You've voted! Simple as that.
Public voting remains open until Wednesday, May 3rd, 12 (noon) est! So hurry and submit your votes before it's too late!
Happy voting!
Please note that voting more than once in each category, even if you've created multiple accounts, is grounds for all your votes being removed and, potentially, the party you're voting for being disqualified.
---
YOU can attend this years Designer Toy Award ceremony as a VIP guest by purchasing a VIP Five Point's Festival Pass here.
The VIP package includes:

Designer Toy Awards VIP Ticket – Party with Designer Toy Royalty at the prestigious 7th annual Designer Toy Awards on Friday, May 19th. The ONLY way for the public to get access!

A VIP Preview/Early Access – Get in an hour early both days to get first dibs on show exclusives - and you know there will be a ton!
Exclusive DTA colorway of Gary Ham's 3" Soul Collector Dunny - A Five Points Festival exclusive.

Saturday Night Party – VIP Access to our Saturday Night shindig, ran by Sonic Boombox - Think cosplay, video games, and live art! Not one to miss.

Exclusive Badge – With swank art just for VIPs
​
Private Entrance – Roll in from your own entrance - PIMPIN'
VIP tickets are very limited!
The clock's tickin'.
Tickets available now at 
FivePointsFest.com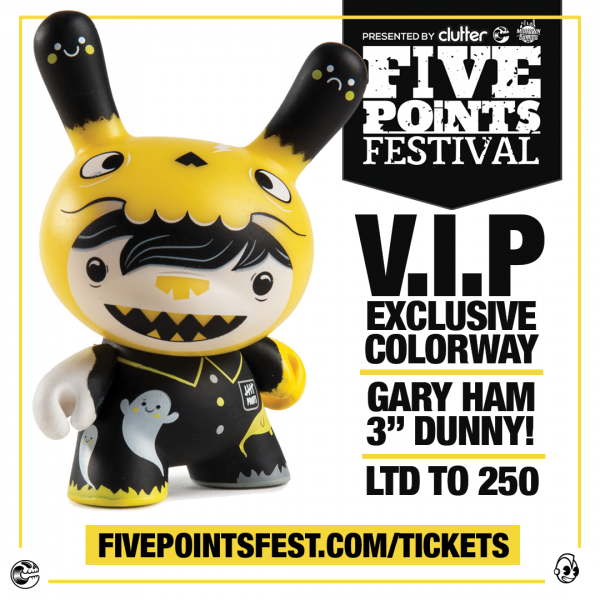 Similar posts
Wednesday, October 3, 2018 - 11:04pm

We are excited to be releasing the first run of hand-painted Penetrator-X figures, hand painted by American Gross!

Tuesday, October 2, 2018 - 10:55pm

Honor your love for all things macabre, Bowie and Pop Surrealism with The Rebel Rebel Heart Skull by Ron English.