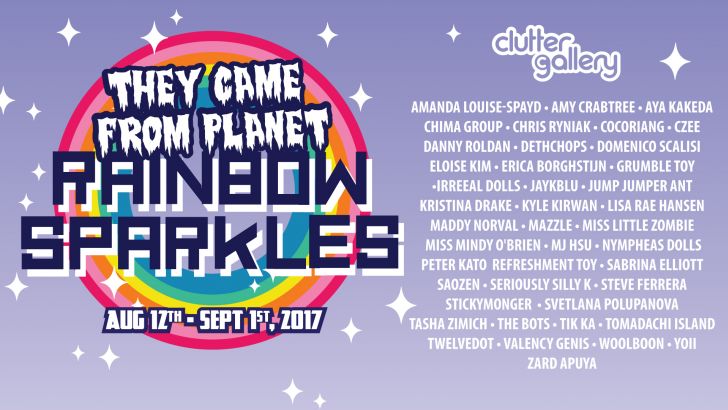 Clutter Gallery is excited to announce the latest installment of our annual cute and colorful group show - They Came From Planet Rainbow Sparkles! 
A group show of super talented painters, customizers, and toy designers, each of the artists taking part was assigned a color to predominantly work within. The results will be displayed as an amazing rainbow of art and toys at the gallery! Prepare to be dazzled!
Opening this Saturday, Aug 12th, join us from 6 - 9 pm to celebrate everything colorful and see these beautiful pieces in person!
Our amazing artist line-up includes:
Amanda Louise-Spayd • Amy Crabtree • Aya Kakeda • Chima Group • Chris Ryniak • Cocoriang • Czee • Danny Roldan • Dethchops • Domenico Scalisi • Eloise Kim • Erica Borghstijn • Grumble Toy • Irreeal Dolls • Jaykblu • Jump Jumper Ant • Kristina Drake • Kyle Kirwan • Lisa Rae Hansen • Maddy Norval • Mazzle • Miss Little Zombie • Miss Mindy O'Brien • MJ Hsu • Nympheas Dolls • Peter Kato • Refreshment Toy • Sabrina Elliott • SaoZen • Seriously Silly K • Steve Ferrera StickyMonger • Svetlana Polupanova • Tasha Zimich • The Bots • Tik Ka •Tomadachi Island • twelveDot • Uamou • Valency Genis • WoolBoon • Yoii • Zard Apuya
The opening reception will be free to the public, and have free beer provided by our awesome friends at Lagunitas!

Sales will be first offered to our Preview list subscribers. An email will be sent out on Saturday the 12th at 12 (noon) est, with a link to preview and purchase.

To sign up to the list please follow this link:
http://www.cluttermagazine.com/about/gallery-preview-list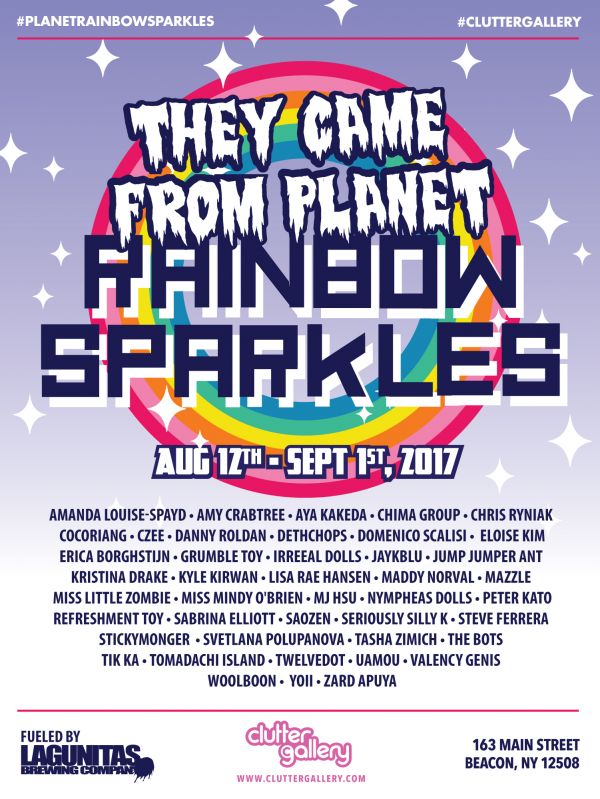 Similar posts
Monday, September 3, 2018 - 10:02pm

The Clutter Gallery is proud to present an amazing solo spectacular from artist duo, Horrible Adorables! 

Monday, September 3, 2018 - 9:50pm

From the farthest reaches of Outer Space, beyond the Gum Gum Galaxy and the Nougat Nebula, lies a planet of Magical Sparkle Glitter. Once a year the inhabitants of the tinsel covered shiny wonder that is Planet Rainbow Sparkle invade the Clutter Gallery.