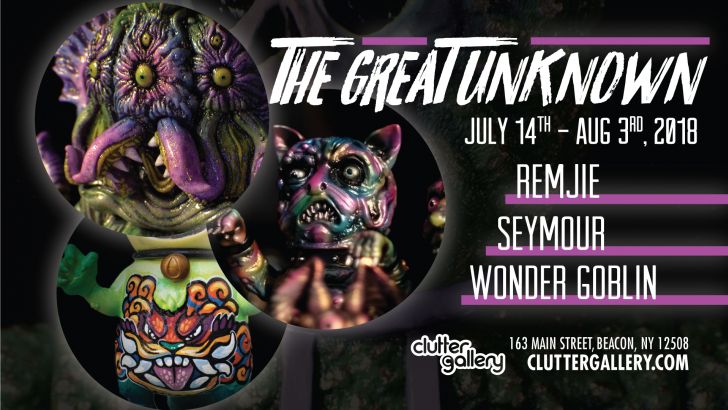 The Clutter Gallery is proud to present three amazing artists showing together in an amazing gallery event "The Great Unknown!"; Remjie, Seymour & Wonder Goblin!
 
About Remjie:

Remjie, hailing from Norway, has been creating amazing monsters since 2008. With a distinctive and unique style, Remjie hit the ground running with her first production vinyl, Doro.

About Seymour:

Peter Kelk is a New Zealand born artist currently residing and working from his studio in Melbourne, under the pseudonym 'Seymour'.

He uses a diverse range of mediums including sculpture and print to create his stylistically recognizable pieces that range from limited edition art toys to intricately detailed one-off sculpted pieces.

In the past few years, he has undertaken a wide range of projects including several vinyl production pieces, and gallery shows. 

About Wonder Goblin:

James Sizemore, born and raised in the rural town of Moreland, Georgia, started seeing demons at the age of seven. James was always encouraged to express his demonic visions through his supportive artist parents, and this expression flourished into a fantastical art career. 

Sizemore's latest endeavor has been the creation of his own toy company, WONDER GOBLIN. With a more colorful and playful outlook on the demons that James has befriended over the years, the company offers original monster creations in soft vinyl and resin which he also sculpts and paints by hand. James loves making toys more than any other medium because for now, it keeps the nightmares at bay.

The opening reception will be free to the public and take place on July 14th, from 6-9pm, at Clutter Gallery in Beacon, NY. 

Free beer provided by our friends at Lagunitas and Mike's Hard Lemonade, PLUS amazing Gluten-free treats from North Brooklyn Eats!! 

Sales will be first offered to our Preview list subscribers. An email will be sent out on Saturday the 9th, at 12 (noon) est, with a link to preview and purchase. To sign up to the list please follow this link:
http://www.cluttermagazine.com/about/gallery-preview-list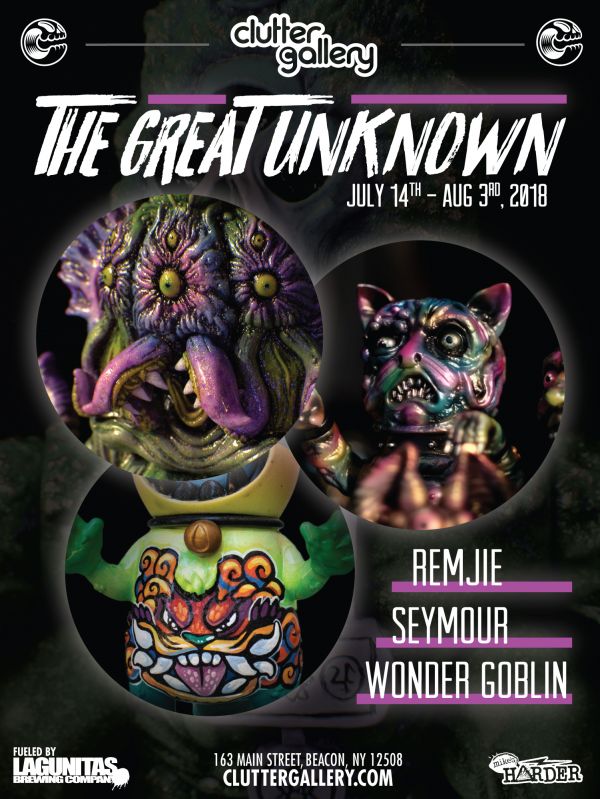 Similar posts
Monday, September 3, 2018 - 10:02pm

The Clutter Gallery is proud to present an amazing solo spectacular from artist duo, Horrible Adorables! 

Monday, September 3, 2018 - 9:50pm

From the farthest reaches of Outer Space, beyond the Gum Gum Galaxy and the Nougat Nebula, lies a planet of Magical Sparkle Glitter. Once a year the inhabitants of the tinsel covered shiny wonder that is Planet Rainbow Sparkle invade the Clutter Gallery.