Posted by
Nick
July 12, 2011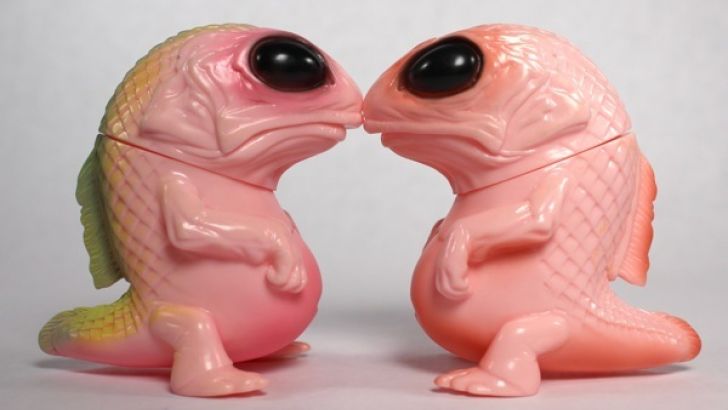 Loving this figure Snybora from Chris Ryniak from the Lake Monsters series from Rotofugi and Squibbles Ink. The figure debuted at SDCC last year but due to some sculpting imperfections was put on the back burner. I'm happy to see that it has returned cos i absolutely love the quality of the sculpt. A relatively small figure at 3.75" tall the sculpt is packed with minute detail and painted with suble airbrushed tones of color.
The first version (pictured on the above right) will be officially nicknamed "Naked Mole Rat" (or Rufus in the Clutter offices - 10pts for getting a Kim Possible reference - BOO-YA!) and will be available at the Triple Crown Yo-Yo Midwest Classic After-Party Rotofugi are holding at the store on Saturday, July 16, 6-8 pm. It will be priced at $30 plus tax. 
The second version (on the left), nicknamed "Baby Mossback" will be available at the Rotofigu booth at San Diego Comic-Con for $33 (tax included). Both versions are on the same light pink soft vinyl and stand 3.75 inches tall. Love it!
Similar posts
Tuesday, August 30, 2016 - 5:29pm

Oh my god, it's so big. Limited to only five pieces worldwide and standing 20 inches tall, this giant Brillo Dunny from the Andy Warhol collection is going to make a lot of pop art fans drool.