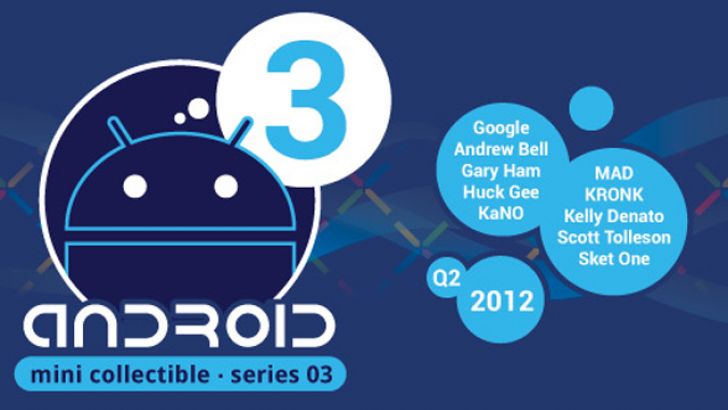 Andrew Bell has announced the DYZPlastic will be releasing the Android mini collectible Series 03 hopefully by the end of July. The series was originally slated for an earlier release, but improvements in the manufacturing process have delayed the release date slightly while resulting in a "better than ever" production release. Of course, everyone is curious as to what will be in Series 03 and — thankfully — the Android Guys website has leaked a partial design sheet for the set:
Top Row (L-R): Google Inc. (2/16), Google Inc. (2/16), Google Inc. (1/16), Gary Ham (2/16), and Andrew Bell (1/16).

Middle Row (L-R): Huck Gee (1/16), kaNO (1/16), Sket-One (1/16), MAD (1/16), and KRONK (1/16).

Bottom Row (L-R): Scott Tolleson (1/32), Scott Tolleson (?/??), Kelly Denato (1/16), Andrew Bell (1/16), and KRONK (?/??).
Quite the fantastic line-up of artists, but there are quite a few mystery designs show there. Let's leave you on a high note a reveal the hidden KRONK piece from the middle row, entitled the "Escape Ape" Android:
Similar posts
Wednesday, June 15, 2016 - 3:22pm

Huck's Skullhead Blanks may be totally sold out, but it looks like more platform toys are coming our way.

Wednesday, April 20, 2016 - 1:28pm

Kidrobot have just revealed the 13 designs and one hidden chase that comprise Scott Tolleson's The Odd Ones Dunny series. I've got to say I'm surprised by these. While some of these are clearly Tolleson, several of them seem to represent a new direction for the artist.