Posted by
Geoff
July 09, 2007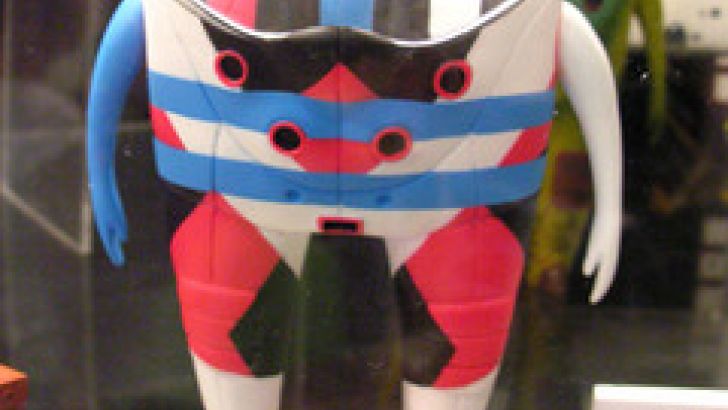 Seems to have been a bit of trend recently to get other designers to do their thing with another's toy. Flicking through TTF pics I saw two new versions of MARS-1's Observer figure that really didn't look like his style. But then I had no idea who did them until I read the tags carefully. Delta and SEEN. Really? Are you shitting me?
If I hadn't told you and there was no tags would you know who did them....I don't think you could say. Neither of them look like a Delta or SEEN piece. I really like both artists and I honestly couldn't tell they'd done them. Delta's illustration work is beautiful but that thing is awful...a couple of stripes.
Hmm, yeah well done. Maybe they felt limited by the base sculpt and couldn't really put their style into it. But if that's really the case, then what's the point of these two pieces? A dunny or qee is a far more forgiving shape and offers a lot of scope...maybe this is a good example of "just because you can do a version of a toy, it doesn't mean you should."
Similar posts
Saturday, January 23, 2021 - 4:36pm

Clutter has teamed up with NY-based artist Kyle Kirwan to bring you a brand new designer toy platform, The Brick!

Wednesday, August 12, 2020 - 3:07pm

We are so excited to announce the first 3oz Canbot Blind Box Series!  A limited-edition toy mini-series launching through Kickstarter on Thursday, August 13th.