Posted by
Devin
October 11, 2011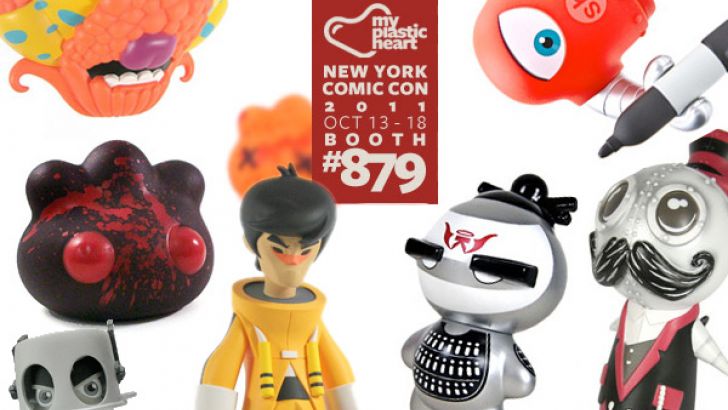 Tons of exclusives hitting NYCC from the greats at My Plastic Heart. The sheer amount of exclusives "M.P.H." brings to the table this year is incredible and the toys just keep coming. Odds are they have a figure, print, signing or custom that makes your own little plastic heart have a coronary. The Dragon King G.O.D by Kano is probably my favorite from the line up but their are so many its really tough to choose. I mean everything Doktor A touches has a place on my shelves. Today "M.P.H." announced a super limited run of the glop in a box by Andrew Bell. Only 8 people. So grab them quick they won't make it to the end of the con I'm sure.
I suddenly want a cherry Squishy from the kwik-e-mart.
I think i need that suit.
Bruce lee would be proud... such a great sculpt.
Love the funky 70's vibe. He reminds me of my old art teacher who was a chubby version of bob Ross and permanently lived in the 70's.
Great devious expressions. You can tell they probably deserve to be in prison.
These are just weird. wtf?
Looks gorgeous and moody. Can't wait to see the whole thing.
Not a font geek but I know plenty who are.
The paint jobs on these are really cool looking/ appropriately named
Violent murderous dumplings for Halloween. How can you not love that!
I can imagine him 500 ft. tall attacking the city and tagging it up.
He seems un-amused... and shiny. The eyebrows make it :)
These always kind of creeped me out. I like them but in a weird way. Not sure how i would feel if it was looking at me and glowing while i was in bed. Glowing and judging and plotting. I'll probably get two.
Similar posts
Tuesday, May 16, 2017 - 10:35pm

kaNO returns to NYC and is making a BIG splash on the Lower East Side!

Wednesday, January 25, 2017 - 10:01am

Celebrate the Chinese New Year with the latest eye candy from Andrew Bell! The Golden Rooster Android Mini is covered in gold to bring good fortune.