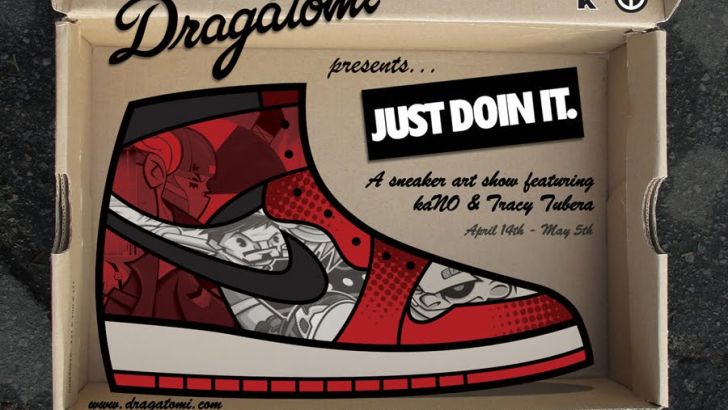 Opening tomorrow night, on April 14th, and running through May 5th, Dragatomi will be hosting the artworks of kaNO and Tracy Tubera for their two-person art show "Just Doin' It." Each artist has created all new paintings for the event and, to tie their individual styles together, they opted to incorporate Nike™ shoe traits and elements into the pieces. So get your best kicks on and head over to Dragatomi tomorrow night at 7PM, because kaNO and Tubera will be in attendance for the opening.
Dragatomi is located at 2317 J St., Sacramento, CA 95816. "Just Doin' It." opens on April 14th, with a reception starting at 7PM, and will remain available for viewing until May 5th.
Similar posts
Tuesday, May 16, 2017 - 10:35pm

kaNO returns to NYC and is making a BIG splash on the Lower East Side!

Wednesday, October 5, 2016 - 4:45pm

While I'm partial to the "hard-luck" Hanshin Tigers, these sneakers - a collaboration between the Hiroshima Toyo Carp and Vans - are super adorable.