Posted by
Doug
June 18, 2012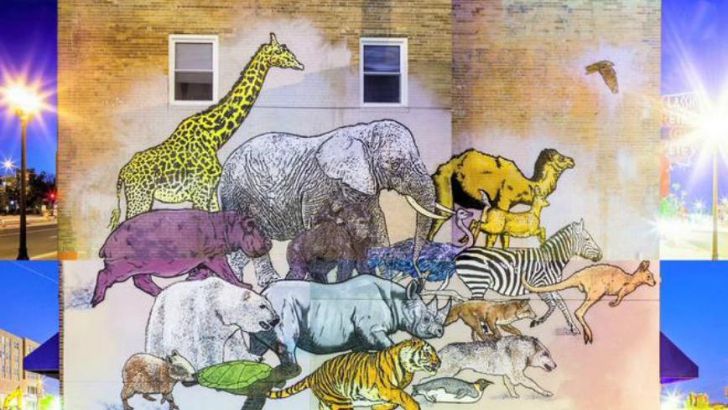 Duo Mike Fitzsimmons and John Grider known collectively as Broken Crow, just finished a very interesting set of murals for a project called The Bigger Picture Project in the city of Saint Paul's Minnesota.  Broken Crow are known for doing large scale stencils of wildlife bringing nature back into the cityscape. From scenes of stampeding animals to a pack of lions having their fill of a recent kill and everything inbetween. The idea behind this project was that they would paint 4 murals along the light rail path that when photographed and viewed together would form a much larger piece of work. 
The four murals are located at 633 University Ave, 651 University Ave, and 2145 University Ave--both sides of the street.  So if you are in that area of the country I would recommend having a look.
This is the first time a multiple location mural has ever been done and I do have to say it is stunning to see.   With the help of photographer Benjamin Clasen they documented the process by creating this time lapse video which can be watched by anyone who scans one of the QR codes on each of the murals. If you are not in the area though the video is below.
The Bigger Picture Project. from Broken Crow on Vimeo.
Similar posts
Tuesday, May 29, 2018 - 12:27am

The Clutter Gallery is proud to present an amazing group exhibition curated by street artist Chris RWK!  Artists Include:

Tuesday, May 16, 2017 - 10:35pm

kaNO returns to NYC and is making a BIG splash on the Lower East Side!