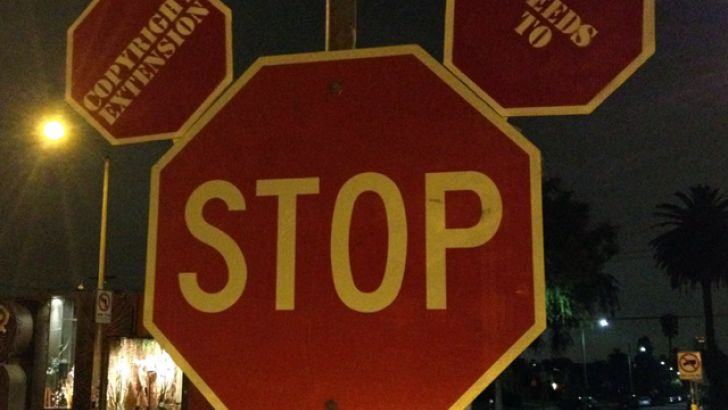 The artist known as Denmark decided to make a street art commentary on Copyright Extension here in the United States, particularly on Disney's massive involvement in lobbying for this alteration, by making "Copyright Extention Needs To Stop" signage. Posted in Los Angeles, near the Disney Studios at Burbank, this display surely turned a few heads. According to the artist,
I recently did an installation in and around Los Angeles protesting Copyright Extension, which is Disney's very effective lobbying to keep Mickey Mouse, and works created thereafter, out of the public domain.  

One set of ears were set up on a short cut, on block away, leading north from Disney Studios in Burbank.  A route I can only imagine every long term exec from the company would take on their way home.  A week later, after someone removed this set of ears, the remaining sticks bled down the sign. Because that's when happens when you rip the ears off of a head, of course.
Images and information courtesy of the Wooster Collective blog.
Similar posts
Tuesday, May 29, 2018 - 12:27am

The Clutter Gallery is proud to present an amazing group exhibition curated by street artist Chris RWK!  Artists Include:

Tuesday, May 16, 2017 - 10:35pm

kaNO returns to NYC and is making a BIG splash on the Lower East Side!