Posted by
Erica
December 07, 2012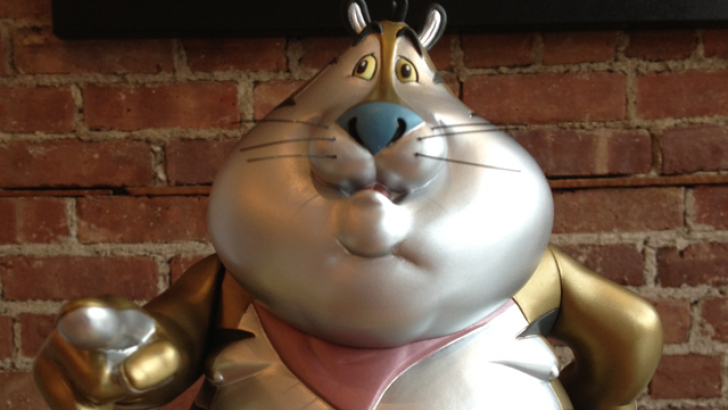 Today POPaganda POPs open the fourth tab on their 12 Days of Xmas Madness Advent Calender, to reveal Fat Tony sporting metallic gold mane! 100% Nutrition-Free, This Sugar Frosted Fat Tony is a ton of Tiger with a short shelf life! Part of the "Cereal Killers Series".
♫♪ On the fourth day of Xmas Madness POPaganda offered to me 100 Gold Fat Tony figures ♫♪
The Fat Tony "Gold" Edition features a dusty rose neckerchief and a bijou blue nose. This particular colorway of the infamous vinyl figure is limited to 100 pieces and is only available direct from the POPaganda Studio.
- Edition of 100 
- 9" Tall 
- Two points of articulation 
- Signed by Ron English 
Similar posts
Thursday, November 19, 2020 - 10:53pm

Ron English's classic Lady Lips image is now three-dimensional as a life-size sculpture and vinyl art-toy sculpture release! 

Wednesday, February 26, 2020 - 10:30am

Join us on February 28, 2020, at 6 pm in SoHo, NYC to celebrate the amazing artwork of Ron English with some very special exclusive releases!