Posted by
Erica
January 25, 2013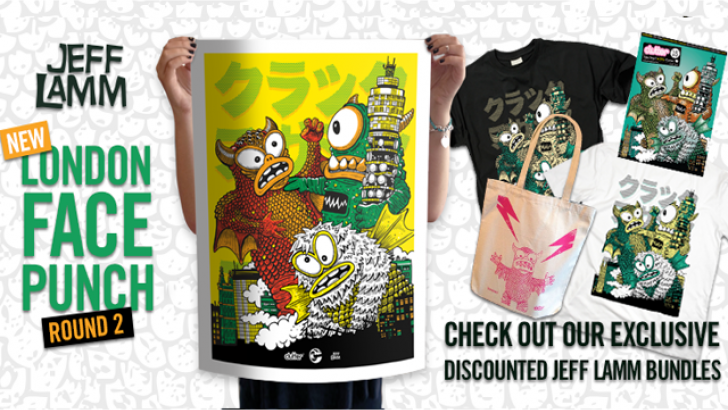 The city left in ruins, rebuilt by the desperate masses, only to have their worst nightmares return for a second devastating tour of London. Jeff Lamm's notorious creations -- the Greasebat, M5 Bravo and Stee-Gar --- return to true fighting form with the release of "London Face Punch, Round 2". 
This ferocious five-color hand-pulled screen print measures a massive 18"x24" and have each been signed & numbered by Jeff Lamm. This brand new colorway of the original Clutter x 1xRunCollaboration is even more limited than the original run, having only 33 copies produced. 
- five color print
- 18"x24"
- signed and numbered by Jeff Lamm
- limited to 33 copies
The "London Face Punch, Round 2" Limited Edition Screen Print IS NOW available in the Clutter Marketplace! 
Be sure to check out our London Face Punch Bundle Packs to recieve huge savings on all Clutter x Jeff Lamm Products!
Similar posts
Tuesday, June 23, 2020 - 4:01pm

Pulled in beautiful bright green Sofubi, the newest release of the Kaaarg is ready to hit your shelves!

Thursday, April 23, 2020 - 7:49pm

From the murky depths of the Hudson River emerges...The Killer Kaaarg! The first painted release of the amazing Jeff Lamm design is set to be unleashed tomorrow, April 24th!