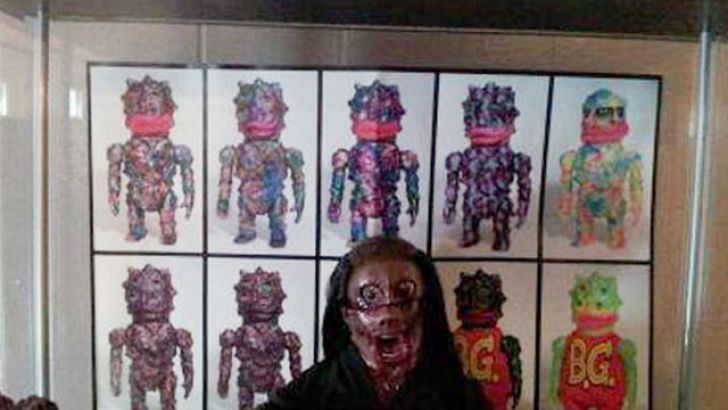 We know you've been eagerly anticipating information about the TEN one-off NagNagNag pieces for our upcoming "Monsters from the Island" group neo-kaiju and sofubi exhibition. These full-size Nag figures include one Siamese Nag, six 4-Eyed Nags and three Crazy Eyes 4-Eyed Nags. The top row of Nags pictured above is a similar paint application to some of those made for this show, though using different colors.
By request of Shigeru, the majority (or possibly the entirety) of the custom one-off Nags will only be available through an in-person lottery during the opening reception on March 9th, 2013 from 6PM to 9PM. We apologize for the lateness in getting this essential bit of information to you.
In addition to the figures, those present for the opening reception will be able to view a short film Shigeru has made using his own figures as the stars!
"Monsters from the Island" is a group neo-kaiju and sofubi exhibition curated by Monster Island NYC. The opening will take place on March 9th, 2013 with a reception from 6-9PM at The Clutter Gallery, 163 Main Street, Beacon, NY 12508.
Comprised of artists working primarily in sofubi and resin, the participating artists include: BLObPUS, Blurble, Bob Conge / Plaseebo, Brian Flynn, Buff Monster, Bwana Spoons, Dski One, Few Many, FigLab, Goccodo, Guumon, Healeymade, Ilanena, Josh Herbolsheimer, Konatsu, L'amour Supreme, Leecifer, Mark Nagata, Mechavirus, Monsterarm, Mutant Vinyl Hardcore, NagNagNag, PaulKaiju, Rampage Toys, Splurrt, Star Case, Toxic Creep, Uamou and Velocitron.
Similar posts
Tuesday, June 23, 2020 - 4:01pm

Pulled in beautiful bright green Sofubi, the newest release of the Kaaarg is ready to hit your shelves!