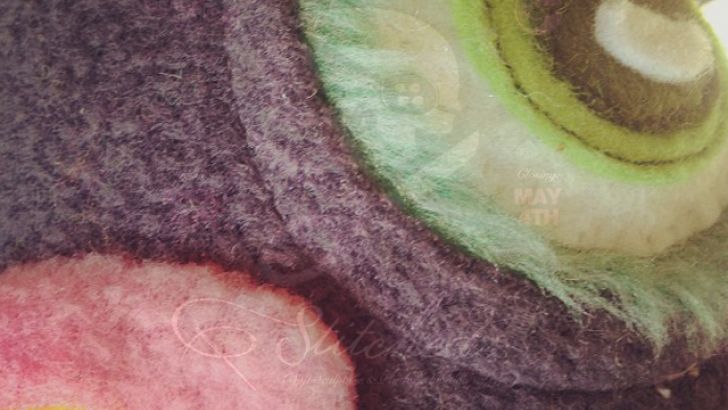 Continuing the coverage of our own Clutter Gallery (163 Main St., Beacon, NY 12508) exhibition of plush and soft sculpture pieces, we have a teaser from Pock-It Palz of the crazy monster pal she created for the "Stitched" show. Opening this Saturday, April 13th, with a reception from 6PM to 9PM, you'll just have to wait a bit longer to fully see what wonder Pock-It Palz has to share with you…
This show will feature pieces by a number of talented individuals within the designer plush scene, including: Amanda Louise Spayd, Careful It Bites, Carisa Swenson, Cat Rabbit, Dena Rea, Denise Ferguson~Yummy Pancake, Diane Koss, Eric Diaz, Hiné Mizushima, House of Darkly, Jezebel Nekranea, Jordan Elise Perme, Joshua Ben Longo, Keely Benkey-Reichman, Kelly Denato, Kit Lane, Leeanna Butcher, Lety RZ, Love & a Sandwich, Mariangela Tan~plushPLAY, Melissa Sue Stanley, Melita Curphy~Miss Monster, Michal Wright-Ward, Moons Creations, Nonesuch Garden, Pock-It Palz, Rachel de Urioste, Robyn Fabsits, Shawnimals, Steff Bomb, Steph Laberis, Stitches and Glue, Travis Lampe, Veggiesomething, and Zoë Williams.
Similar posts
Monday, September 3, 2018 - 10:02pm

The Clutter Gallery is proud to present an amazing solo spectacular from artist duo, Horrible Adorables! 

Monday, September 3, 2018 - 9:50pm

From the farthest reaches of Outer Space, beyond the Gum Gum Galaxy and the Nougat Nebula, lies a planet of Magical Sparkle Glitter. Once a year the inhabitants of the tinsel covered shiny wonder that is Planet Rainbow Sparkle invade the Clutter Gallery.