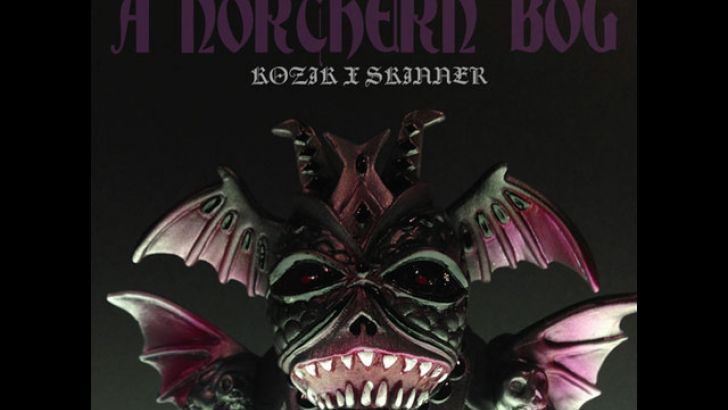 In Northern fastness there doth dwell / Vile sentinels at the Gates of Hell / Nine Bogs of mein most profane / Foul harbingers of Odin's Bane
So goeth the description of Frank Kozik & Skinner's evil spawn; A Northern Bog. A Northern Bog was birthed beneath the freezing moon in the frost laden mountains of Northern California, when the eternal master Kozik touched 9 of Skinner's Ultrus Bog figures with his icy hands. The coven, consisting of nine 9", cold, black, Ultrus Bog sofubi figures were then sprayed with silver & pink V-Color paints by the Wizard Kozik. But the Wizard was not finished with the circle of 9 for he then proceeded to mark each of them with a number and his signature. All 9  A Northern Bog figures were then sealed in a bag equipped with a header card, also numbered and signed by the necro hand of the Wizard Kozik. Only the chosen ones may harbor A Northern Bog in their lair, for only 9 exist and they are limited to one per customer/household. If you choose to take on the powerful A Northern Bog, you will have to pay the price for this immortal pagan demon is available for $200 through Frank Kozik's webshop. A Northern Bog will make his presence known today, May 1st, at the hour of 12 noon Pacific time in the shop of the eternal Wizard Frank Kozik!
Similar posts
Saturday, January 23, 2021 - 4:36pm

Clutter has teamed up with NY-based artist Kyle Kirwan to bring you a brand new designer toy platform, The Brick!