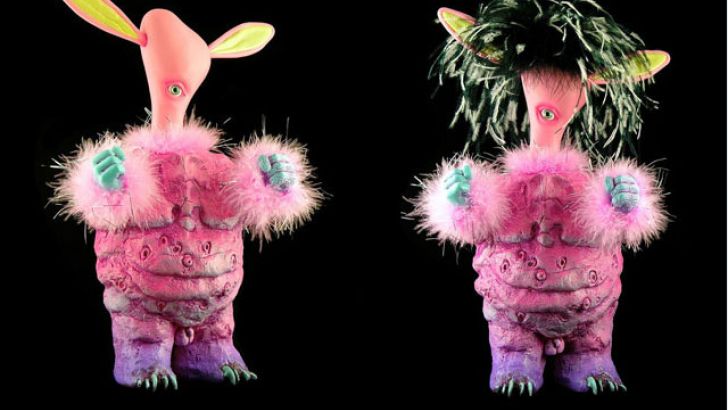 Plaseebo's contribution to Toy Art Gallery's upcoming group show YHWH is a fantastic combination of vinyl and hand cast resin with feathers. Known as Oxymoron Carnivale, this 14" tall piece is Plaseebo's take on Mark Ryden's YHWH vinyl figure. Oxymoron Carnivale is a one of a kind piece and is signed by Bob Conge (aka Plaseebo). 
The YHWH group exhibit is a tribute to artist Mark Ryden's well known YHWH vinyl toy. With Mark Ryden's Blessing, Toy Art Gallery has assembled an amazing group of talented artists to share their vision of the YHWH toy. The group show opens 5/11 and will run through 5/26 at Toy Art Gallery in Hollywood, California. 
Similar posts
Saturday, January 23, 2021 - 4:36pm

Clutter has teamed up with NY-based artist Kyle Kirwan to bring you a brand new designer toy platform, The Brick!

Wednesday, November 25, 2020 - 5:10pm

Meet the latest member of the Canbot family!  One Formula Canbot by Sket One! The OG legend Sket One has teamed up with Czee13 & Clutter to bring you a killer series of Canz that are Classics.